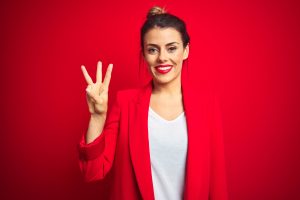 When your teeth are not properly aligned, it can be difficult for you to show off a fully confident smile. Though you may not realize it, you can also have a harder time maintaining your oral health because of this problem! The good news is that orthodontic work does not always mean wearing metal braces for an extended period of time. Through treatment with Invisalign aligners, we can make your experience with corrective work easier. Our Santa Monica, CA dentist's office uses advanced digital technology to measure teeth so that we can plan precise corrective work that includes carefully designed clear aligners.
1. Our Practice Uses Digital Imaging Technology To Plan Invisalign Treatment
A successful orthodontic treatment comes after careful planning. The preliminary work we do to evaluate your issues with malocclusion and measure your teeth help us provide a personalized treatment experience that delivers the right results. With digital imaging technology, we can carefully plan your Invisalign procedure by using remarkably detailed images of your teeth and oral structures.
2. Your Adjustment Will Not Interfere With Your Diet Or Smile Care Routine
It can be hard to imaging yourself working around metal braces during orthodontic treatment. Fortunately, this is not the only approach to smile care that is available to those bothered by poorly spaced teeth. Your Invisalign aligners can be removed easily, which means you can quickly and quietly slip yours off before you eat, or before you clean your teeth. This is more than just convenient, as this will help you keep up with a good oral hygiene routing while fixing problems with smile gaps and overlaps.
3. Treatment Can Improve More Than Just Your Smile!
If someone looks into Invisalign treatment, they can understandably look forward to changing their appearance. What you should know is that this work does more than just produce cosmetic changes. Fixing malocclusion can help reduce your risk for TMJ problems caused by an uneven bite. You can also have an easier time protecting your smile when your teeth are straighter, as your oral hygiene routine can be more effective.
Talk To Your Santa Monica, CA Dentist About Invisalign
Through Invisalign treatment, we can help patients who are embarrassed by poor teeth spacing but would prefer that they not wear metal braces. With clear aligners that are specially designed for you, it is easier for you to discreetly move teeth into better positions. We can discuss this and other services that we offer to help individuals make positive changes to their smile. If you want to discuss another cosmetic procedure, or if you have concerns about your oral health, let us know! To find out how we can take care of you, call Santa Monica Dental Arts in Santa Monica, CA today at 310-395-1261.