$295 NEW PATIENT WELCOME SPECIAL
Includes:
CLEANING, CONSULTATION, AND ANY NECESSARY X-RAYS
YOU MUST USE CODE 'SMILE8' TO QUALIFY.
Appointments Required
Not valid for previous services
No cash value
---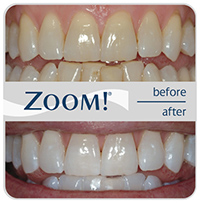 Zoom! In-Office Whitening
Buy one Zoom! Whitening Service at our regular low fee, and your friend or family members gets 50% off on their service!
A More Attractive Smile with Zoom! – Teeth Whitening
Does your smile seem less vibrant than it used to, as though the color has somehow faded from your teeth? Do your teeth exhibit noticeable staining from food, beverages, and other sources? With professional teeth whitening through the advanced Zoom! bleaching system, you can boost your confidence in your smile by eliminating teeth stains and brightening dull tooth structures.
The Power of Zoom! Whitening
Zoom! whitening is a teeth whitening system that is performed in our office during a single visit, usually within an hour. The procedure is simple and involves applying the high-strength whitening agent to your teeth, then stimulating it with a special light. The stimulated gel works quickly to break up surface stains and oxidize your teeth's structures underneath to revitalize their pearly-white glow. Within the hour, your smile can be up to 10 shades brighter and significantly more confident!
Both Zoom! services must be purchased at the same time. Patients can have separate treatment appointments.
---
Porcelain Veneers – Minimal or "No-Prep"

10% Off of our usual fee for this amazing way to beautify your smile. No limit to the number of veneers placed with this offer per case accepted.
---
Please print these coupons and bring them to our office to take advantage of our website specials.
Visit Santa Monica Dental Arts Today!
At Santa Monica Dental Arts, conveniently located in Santa Monica, CA, Dr. Moeiz Koshki, Dr. Sakamoto and our staff are dedicated to providing the highest-quality dental care to patients of all ages. As a highly-skilled general dentist with over 25 years of experience, Dr. Koshki is well-known and in high demand for the stellar service he provides, and for his expertise in creating beautiful, healthy smiles for life. To learn more about the services we offer, or to schedule a consultation with Dr. Moeiz Koshki and Dr. Sakamoto, call Santa Monica Dental Arts in Santa Monica, CA today at 310-395-1261.