About Santa Monica Dental Arts
Dr. Moeiz Koshki
Dr. Koshki is a 1989 graduate of Georgetown University School of Dentistry. He has been in private practice since, beginning in the Metropolitan D.C./Northern Virginia area, then subsequently moving to Southern California in 2005.
Trained and licensed in all aspects of restorative and cosmetic dentistry, Dr. Koshki enjoys providing excellent service to all patients – from children as young as 18 months, to the most golden of seniors.
Dr. Koshki's commitment to his profession extends to his continued training and education. Some (but not all) of his post graduate endeavors include:
Attending The Pankey Institute for Advanced Dental Education at the 3rd level.
Earning certification as a ClearCorrect™ and Invisalign® provider.
Completing a nine-month course on dental implantology to assess, surgically place, and restore dental implants.
Earning certification for the use of a diode laser for soft tissue treatments.
Being an esteemed member of the local Spear Education Study Club for continuing education among colleagues dedicated to excellence. Dr. Koshki travels annually to Scottsdale, AZ, to Spear Education for hands-on training in advanced dental techniques.
Being a current member of the American Dental Association, California Dental Association, and West Los Angeles District Dental Society.
Meeting or exceeding all required training for OSHA/HIPAA and other regulatory agencies for patient comfort, safety, and security.
Dr. Koshki has taken great care to assemble a special group of team members in his office. Whether you seek teeth cleaning or a full mouth cosmetic rehabilitation, Dr. Koshki and his team will provide superb care with a gentle touch in a calm and soothing environment.
The Koshki family enjoys all the benefits of West Coast living. Outside of the dental office, Dr. Koshki can be found playing or coaching soccer, and watching his sons participate in sports. Dr. Koshki and his wife, Sharona, explore tasty and healthy ways to eat in their travels worldwide.
---
Gail Sakamoto, D.D.S.
Dr. Gail Sakamoto joined Santa Monica Dental Arts by Dr. Moeiz Koshki in January 2019. She brings with her over 25 years of experience. A graduate of UCLA Dental School, she works hard to bring her patients the best dental care. She is very empathetic and caring to patient's feelings and is very meticulous. She also tries to preserve as much of the patients' teeth as possible, earning the title of Dr. SuperTooth Hero.
When not in the office, Dr. Sakamoto enjoys spending her spare time with family and friends; having dinners, drinking wine, and baking. She likes going to Napa and the Bay area to visit her son. She hopes to do more traveling in the future; seeing the US, Japan, and Europe.
---
Justine Hoda Hai, DDS, MS
Dr. Hai is a board-eligible periodontist who received her Doctorate of Dental Surgery with Honors at the State University of New York at Buffalo. She then went on to complete an Advanced Education in General Dentistry Residency at the UCLA Venice Dental Center and a Periodontics Specialty at the UCSF School of Dentistry where she also received a Master's in Oral and Craniofacial Sciences.
Dr. Hai currently works part-time as the acting director of the Advanced Education in General Dentistry Residency Program at UCLA Venice Dental Center and enjoys teaching residents. She has received numerous awards including the California Society of Periodontists Outstanding Graduate Research Award and the Global Oral Health Research Fellowship for her research on antibiotics in periodontics, which is published in the Journal of Periodontology.
​
In her free time, Dr. Hai enjoys spending time with her family and friends, playing board games, enjoying nature and being involved in community service. ​ She looks forward to providing expert care to patients in our Santa Monica office including gum grafts, extractions, implants and more.
---
Vicki, Office Manager
With over 30 years of experience as Dental Office Manager, Vicki provides the ultimate in customer care to all of Dr. Koshki's patients. She provides services such as scheduling, treatment coordination, financial arrangements, and insurance billing. She is also the office social media advisor and maintains our Facebook page and website. Her commitment to her vocation has sent her throughout America to learn from the masters in the dental field. Vicki dedicates herself to being an advocate for patients, and will go the extra mile every time to ensure their comfort and care.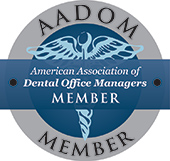 Outside of our office Vicki enjoys literature, music, and spending time with her family.
Vicki welcomes any questions you may have about our office, your dental treatments and their associated costs, or your dental insurance benefits. She is available Monday through Friday at your convenience.
---
Sharona S., R.D.H., Hygienist
Sharona S., R.D.H., graduated with a Bachelor of Science degree in Dental Hygiene from USC. She brings her passion for dental hygiene to each appointment with the intent of empowering patients to do the best that they can do. Her pre-graduate studies extended abroad with USC. During these activities, she excelled in cavity prevention programs by interacting with elementary schools and community centers. She has also been honored with the opportunity to present to upcoming dental hygiene students. With her license in California, she has earned credentials in providing local anesthetic, nitrous oxide, and restorative expanded functions. Sharona has also been certified to use dental lasers to treat gum disease and other oral considerations.
Sharona was raised in Baltimore, MD, along with her siblings. Before her career in dental hygiene, she earned a degree in Child Education and decided to further her education in the dental field. When not providing extraordinary care to her patients, Sharona enjoys spending time visiting the park and zoo with her niece and nephew. She is an avid outdoors person, and enjoys running, biking and hiking.
---
Susan S., R.D.H., Hygienist
Susan has been a Registered Dental Hygienist for over 30 years, and can't imagine doing anything else! Her mission is to be a leader in providing quality care for our patients. Susan received her dental hygiene degree from Howard University and practiced in Maryland, before moving to California in 2017. When not in the office, Susan enjoys hikes, biking, and spending time with her two amazing children.
---
Laura B., R.D.H., Hygienist
Laura B., R.D.H., enjoys meeting and working with individuals from all walks of life and inspiring them to take an active part in their oral health. She was part of the first class at West Los Angeles College to receive a Bachelor's degree in Dental Hygiene and graduated Magna Cum Laude. Before discovering her passion for dentistry, Laura received her first Bachelor of Science degree from CSUDH, majoring in Cellular and Molecular Biology. She hopes to one day combine her love for research and dentistry by studying oral diseases and their effect on whole body wellness. Laura is bilingual in both English and Spanish. She enjoys music and reading in her spare time.
---
Jennifer G., Dental Assistant
Jenny is Dr. Koshki's "right hand person," assisting him in most of the dental treatments provided in our beautiful Santa Monica office. She enjoys working with the team to provide excellent care to our wonderful patients.
Jenny is happy that the office is always learning new technologies and systems to provide even better dental care to our patients. She enjoys the opportunities to grow in her career available at Dr. Koshki's office.
When not taking X-rays, pouring impressions, ordering supplies, or any of the other dozens of tasks in the dental office, Jenny loves spending time with her family, seeing movies, and enjoying the many wonderful outdoor activities available in Southern California.
---
Sharona M., Dental Assistant
Sharona is working in our practice as a chairside dental assistant to both Dr. Koshki and Dr. Sakamoto. She helps maintain a clean, sterile environment for our patients and staff while optimizing patient comfort and safety.
She is skilled at taking and pouring impressions, preparing dental equipment and assisting with all dental procedures such as crowns, fillings, implant placement and extractions.
Outside of our dental office, Sharona enjoys music and movies and spending time with her husband and sons.
---
Visit Santa Monica Dental Arts Today!
At Santa Monica Dental Arts, conveniently located in Santa Monica, CA, Dr. Moeiz Koshki, Dr. Sakamoto and our staff are dedicated to providing the highest-quality dental care to patients of all ages. As a highly-skilled general dentist with over 25 years of experience, Dr. Koshki is well-known and in high demand for the stellar service he provides, and for his expertise in creating beautiful, healthy smiles for life. To learn more about the services we offer, or to schedule a consultation with Dr. Moeiz Koshki and Dr. Sakamoto, call Santa Monica Dental Arts in Santa Monica, CA today at 310-395-1261.