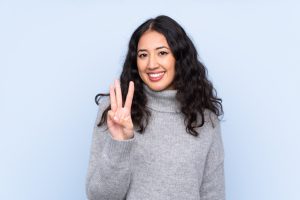 Ideally, you will be able to maintain the health and appearance of your teeth so that you do not require restorative dental services. Unfortunately, many people will experience the need to have some work done to restore a tooth that is injured or affected by decay. At our Santa Monica, CA dentist's office, patients who require treatment with a dental crown can receive one made with porcelain material. This substance can closely match the color of your enamel, so it can restore your tooth without changing your smile. It can also be counted on for functional support, so you will not have to go out of your way to avoid putting pressure on it.
1. Your Crown Can Match The Appearance Of A Healthy Tooth
Some teeth are more important to your smile than others. If you need to have work done on a tooth that is in a visible space, you may worry that your treatment will create a problem for your appearance. By using porcelain to craft your crown, we can provide protection without changing the way you look. If you are attempting to fix an issue with a tooth that is naturally small or misshapen, this work can actually lead to a cosmetic improvement!
2. Your Crown Will Provide Support For Biting And Chewing
A crown can improve your smile, but unlike purely cosmetic dental services, work to restore your tooth also offers functional support. If you are not able to bite and chew in a way that feels natural, you can begin to tax your jaw joints and muscles, which can lead to aches and pains. You can also create problems because you are unknowingly overusing certain teeth. While porcelain is popular because of the way it looks, this substance can be trusted to support your healthy and natural bite function.
3. Your Crown Will Be Carefully Made To Fit Comfortably And Securely
A crown is custom-made so that it fits over your tooth, stays secure, and does not bother neighboring teeth upon placement. Making sure your crown is the right shape and size will be important, as this can ensure that you feel comfortable with it for an extended period of time.
Our Santa Monica, CA Dentist's Office Can Restore Your Smile With A Porcelain Crown
At our Santa Monica, CA dentist's office, our team can work with patients to keep their smiles attractive and healthy. If restorative dental work is necessary, we can arrange to take care of your tooth with a filling or crown that offers functional as well as cosmetic benefits. If you have questions about our restorative services, or if you wish to discuss preventive or cosmetic care, please reach out to Santa Monica Dental Arts by calling 310-395-1261.