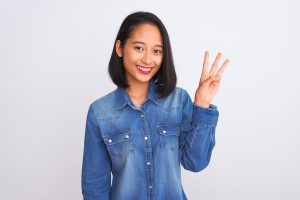 You have grown frustrated with the presence of a gap between teeth, and you are ready to have it treated so that it no longer attracts unwanted attention. When you look into what can be done to improve your smile, you can find that there are multiple procedures that help fix this problem. Because the presence of a gap is often linked to poor spacing, your first thought can be to look into orthodontic treatment. Thanks to clear appliances like Invisalign and ClearCorrect, it is possible to close a gap with a discreet orthodontic treatment. With that said, you could also look into the benefits of a cosmetic dental procedure, or even the placement of a dental crown. Our Santa Monica, CA dentist's office has helped many people target specific smile flaws, and we can talk to you about your treatment options.
1. We Can Address Gaps And Overlaps With Clear Aligners
Because smile gaps are frequently the result of malocclusion, we can discuss the use of clear braces to move your teeth and close one that bothers you. Both Invisalign and ClearCorrect are equipped to handle different orthodontic concerns. Your aligners will gradually move teeth into better positions. The benefit to this approach is that it can also address any other flaws with your smile alignment.
2. Hiding A Gap By Placing Veneers
With a well-placed porcelain veneer (or porcelain veneers), a gap between teeth can be effectively covered. Veneers require considerably less time than orthodontic treatment, and they also require less preparatory work than it would take to place a dental crown. Veneers have been effective in a range of situations, making them popular with people who have different cosmetic smile concerns.
3. Capping A Small Tooth With A Crown Can Close A Gap Between Teeth
Sometimes, a gap is present because a tooth is undersized or misshapen. This may affect your bite function as well as the way you look. To address the matter, we can provide support for the tooth with a dental crown. A crown made from porcelain can imitate a healthy tooth, so this procedure can benefit your oral health as well as your smile.
Our Santa Monica, CA Dentist's Office Can Offer Exciting Smile Improvements
Are you tired of letting a gap in your smile undermine your confidence? At our Santa Monica, CA dentist's office, patients who are bothered by this or other cosmetic flaws can discuss a range of different services to help them. We can target the problem by fixing alignment troubles, but we can also review other options that can produce results in less time! To find out more about our cosmetic treatment options, or to discuss other matters related to your smile, please call Santa Monica Dental Arts in Santa Monica, CA today at 310-395-1261.