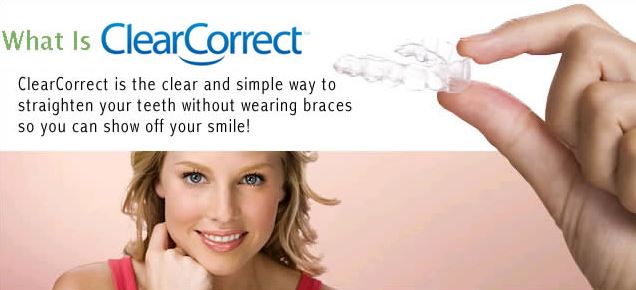 https://youtu.be/9ftR4y3uAgI
ClearCorrect is a clear aligner used to straighten teeth as an alternative to traditional braces. Similar to other clear aligner brands (like Invisalign) available to dentists certified to offer them to their patients, ClearCorrect straightens teeth using a series of clear, custom-made, removable aligners that gradually move teeth a little bit at a time, eventually correcting the alignment of teeth to elicit a new, revitalized look.  You will also be able to care for the health of your teeth and gum tissues more easily, which is perhaps the best healthy advantage to having straighter teeth. Scientists agree:  Your healthy mouth is the gateway to your healthy body.
Your ClearCorrect Process:
Are you considering treatment with ClearCorrect aligners? If so, here's what you need to know:
Your records — including impressions, photographs and radiographs, along with a prescription for your custom-made aligners — are sent by Dr. Koshki to the ClearCorrect laboratory, where an exact 3-D model of your teeth is created. Your ClearCorrect treatment team then maps out a complete treatment plan showing the gradual realignment that will reposition your teeth from their current position to where Dr. Koshki wants them to be.
ClearCorrect Treatment: How it Works
ClearCorrect treatment involves four phases of aligner therapy. Each phase requires a new set of aligners that are worn for a three-week period. The time between each phase allows for control and flexibility.
ClearCorrect aligners are worn all the time, except when eating and drinking, or while brushing and flossing. Designed with aesthetics in mind, ClearCorrect aligners are barely noticeable and won't have an impact on your daily routine.
After wearing each aligner set, results will be noticeable as your teeth begin slowly adjusting and aligning to your desired smile. Periodic check-ups with your dentist are required so your progress can be evaluated and you can be given the next set of aligners. This sequence will continue until you have achieved your new, ClearCorrect smile.
Treatment time can vary from 6 months to two years, depending upon your specific condition and degree of misalignment. Dr. Koshki's patients typically are in treatment for about 9 months.

Who Can Benefit from ClearCorrect?
ClearCorrect currently is available to treat most adults and teenagers. Dr.  Koshki offers a courtesy, no obligation evaluation to determine if you are a good candidate for ClearCorrect.
ClearCorrect can be used to treat the following orthodontic conditions:
Crowded teeth
Spacing between teeth
Overbites
Underbites
Crooked or turned (rotated) teeth
In cases where ClearCorrect is not suitable for certain misalignment cases or complex bite problems, traditional orthodontics may be recommended. Dr. Koshki can refer you to several excellent orthodontists for more traditional fixed, or bracketed orthodontics.