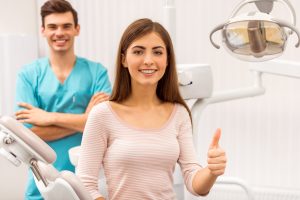 While dental problems can permanently affect a tooth, the right dental restoration can have lasting value. Porcelain dental crowns can serve as great support for a tooth that has been treated by your dentist. The material, while attractive, is also capable of handling the serious biting and chewing pressures that are normally exerted on the tooth being treated. Your Santa Monica, CA dentist can work with you to make sure your crown is an ideal look, and fit, so that you can feel fully confident in the work done to protect your vulnerable tooth.
Identifying A Problem With Your Tooth That Can Require A Restoration
Do not ignore the signs that tell you something might be wrong with a tooth. If you feel uncomfortable putting pressure on a tooth, or if you have concerns about persistent pain or sensitivity, the matter may be something your dentist needs to address. In many cases, a dental crown is used to address an advanced cavity. With that being said, there are times when this restoration is required to protect a tooth affected by physical damage, or even to address naturally occurring problems with the shape or size of a tooth.
Making Sure Your Crown Is The Right Fit, And The Right Look, For Your Smile
Your dentist will carefully study a problem tooth before moving forward with treatment. To ensure a comfortable fit, your dentist takes thorough measurements of a tooth being fitted with a crown. The right shape and size can be crucial to making certain a restoration is comfortable, and capable of lasting for a long duration. Deep attention is also given to the cosmetic quality of the crown. That way, its ability to fit in naturally with your smile can be ensured.
Exploring Other Treatment Options That Can Benefit Your Smile
Not every restorative treatment is resolved by placing a dental crown. If you have a tooth that needs to be treated because of a cavity, it is possible to fix the trouble with a dental filling. However, this is only viable when decay is limited in size – regular dental exams make it easier to ensure a cavity can be caught in time. In some cases where a tooth's shape or size are a concern, or in situations where superficial dental damage is being addressed, cosmetic dental work can be recommended.
Santa Monica Dental Arts Can Provide A Lifelike Porcelain Crown
Individuals in and near Santa Monica, CA can look forward to the expert care provided to them by Dr. Koshki when they need restorative dental work. Santa Monica Dental Arts is proud to deliver high-quality dental crowns that protect vulnerable teeth, while also offering impressive cosmetic support. If you are ready to schedule a consultation with Dr. Moeiz Koshki, please call Santa Monica Dental Arts in Santa Monica, CA today at 310-395-1261.