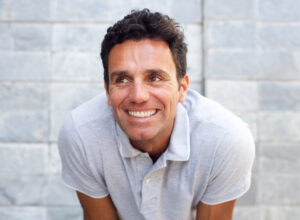 The loss of a tooth is a significant event that requires a plan for the future. Upon receiving a diagnosis that includes a recommendation of an extraction, take the time to research your options. There are multiple ways of replacing one or more of your existing teeth with a beautiful prosthetic solution. One of these processes can help you to retain your jaw bone after your instance of tooth loss.
At Santa Monica Dental Arts in Santa Monica, CA, we proudly offer our patients biocompatible dental implants. This process derives its strength through a titanium post that stays permanently in the bone of your jaw. Your new prosthodontic tooth replacement will rest atop this post and can thus be changed if it experiences wear or damage. A dental implant can give you the confidence you need in your daily life. Chew with conviction with a sturdy prosthodontic smile repair solution that fits your needs.
How Dental Implants Create Lasting Stability
The dental implant process centers around the placement of a strong metal post within your jaw. This is a threaded titanium rod and this element has particular chemical properties that make it suitable for this application. Instead of viewing the post as a foreign object, your body actually accepts it. Your jaw bone material will reform around the threads, which creates a snug connection.
After recovery from this procedure, your dental health caregiver will attach your custom prosthetic tooth to your post. Your new dental implant will allow you to chew with certainty. This process also assists in the retention of bone tissue after an instance of tooth loss.
A Beautiful And Versatile Solution
One of the ways that a dental implant placement could help you is through its versatility. Dental implants are possible in any location of the mouth, and do not require strong teeth on either side of a gap. Other forms of prosthodontic repair can rely on these structures to hold an appliance-based solution.
This option also allows for expansion should you need more coverage. Implant-supported dentures are an increasingly popular method of whole-mouth repair. This approach uses an average of four posts per jaw to hold a fixed denture. These prosthetics do not cover the roof of your mouth and are less likely to trigger your gag reflex. They also offer a remarkable hold!
Dental Implant Technology In Santa Monica, CA
The replacement of one or more of your existing teeth is not a decision that you should take lightly. Learn about your possibilities and call Santa Monica Dental Arts in Santa Monica, CA at 310-395-1261 today. Schedule an appointment with Dr. Koshki and discuss how a dental implant could best serve your smile.