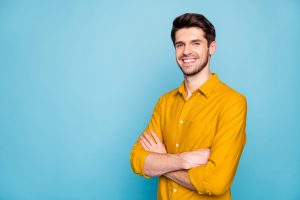 When a person has several issues that make them self-conscious about their smile, they can feel more intimidated by the idea of a cosmetic dental procedure. How long will it take you to see the results you want, and how many procedures stand between you and your ideal smile? At our Santa Monica, CA dentist's office, we have experience helping people who are affected by multiple problems with their teeth. Through the placement of porcelain veneers, we are often able to take on many problems at one time. Once a procedure is completed, you can be delighted to see that your smile has been transformed!
What Would You Like To Change About Your Smile?
Are you concerned about the shape and size of your teeth, the way your smile is aligned, or with the color of your enamel? For many people, the answer is a combination of these concerns, and sometimes all three. Fortunately, these are all issues that can be addressed with porcelain veneers! Once veneers have been put in place, they can cover up discoloration, problems with the condition or shape of certain teeth, and even issues with spacing.
Receiving Custom Porcelain Veneers
To make sure that you feel confident in your appearance after treatment, our practice will carefully measure and prepare your teeth for the receipt of veneers. Preparatory work can ensure that your restorations fit properly and look attractive when placed. Once this work is completed and we have the measurements required, we can bring you in to have your smile improved. Thanks to Lumineers, it is possible to restore the appearance of your teeth with less preparatory work. These restorations are still made from durable porcelain, so they can provide lasting benefits.
Why Porcelain Crowns Are Sometimes Used To Take Care Of Teeth
It may take more than veneers to restore teeth that have been worn down or damaged. Sometimes, a review of your smile will find that some of your teeth require restorative treatment. Fortunately, you can have these teeth restored with porcelain dental crowns. Porcelain crowns are made to match the appearance of your natural teeth, but they also provide greater coverage and functional support. Crowns provide bite protection and stability that veneers are not intended to provide.
Talk To Your Santa Monica, CA Dentist About Scheduling Cosmetic Treatment
At our Santa Monica, CA dentist's office, we have experience restoring the smiles of patients who worried that they would require several procedures to see real results. If you have questions about porcelain veneers, or if you want to know about any other cosmetic procedures that we offer, please call Santa Monica Dental Arts in Santa Monica, CA today at 310-395-1261. We also provide preventive and restorative services that help you maintain good dental health.