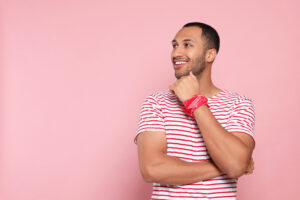 Have you recently cracked or broken one of your existing natural teeth? When you experience an injury to your smile, take the time to talk with a trusted emergency dentist about your options in restoration. It is helpful to keep their name and phone number stored in your contacts should you ever need it. These situations happen, and you want to be prepared in the event that you need to renew your smile after injury or tooth decay
With our understanding team of emergency and restorative dental experts in Santa Monica, CA, you can find your way to a positive dental path with the placement of a gorgeous new porcelain dental crown. This method of renewal uses a sturdy cap made from advanced ceramic material to keep your remaining tooth structure secure moving forward. Crowns can be beneficial for those with cracked or broken teeth, and they are also a crucial part of the root canal treatment process. When you need some help keeping your smile safe, talk to our team quickly after your injury to find your renewal solution!
Do Not Delay In Seeking Care After Damaging A Tooth
Sometimes, your dental injury may not seem like an emergency, but schedule an appointment for an examination to learn more about what has happened with your smile. One common mistake that people make is to hold off on talking to a dentist after they crack or break a tooth, and this can be risky for your oral health. By seeing your provider, you can better understand the extent and severity of your injury.
When you lose the natural protection of your enamel, your tooth becomes at risk of developing a bacterial infection within the bundle of soft tissue deep within. This situation can lead to a painful throbbing toothache, so talk to your dentist before bacteria start to take hold.
A Dental Crown Can Help You To Restore Both Function And Appearance To Your Smile
When you come into the office after breaking or cracking a tooth, you may need a little assistance in renewing your oral health. A dental crown is a tested method of repair that uses a durable cap to contain and protect your remaining material. Your dentist will permanently attach this to your current tooth structure, helping you to restore your bite function at the area. Our porcelain crowns also blend in with your natural smile, helping you to continue to look your best!
Beautiful And Durable Dental Crowns In Santa Monica, CA
If you have broken or otherwise damaged one of your teeth, take the time for an examination to discover your needs in restoration. To learn more about dental crowns, give us a call at Santa Monica Dental Arts in Santa Monica, CA at (310)395-1261.