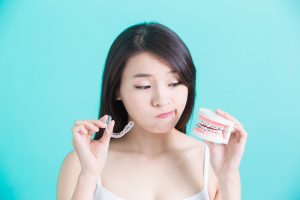 If you picture yourself undergoing orthodontic work, you may imagine a conspicuous bracket and wire appliance that draws unwanted attention. For many people, conventional braces will be necessary to providing the corrections that they need to really correct alignment issues. However, this may not be the case for you. If you qualify, you can receive clear braces to make your corrections. Invisalign and ClearCorrect can be used to correct crooked smiles discreetly. This means you can have a subtle, hard to see appliance doing the necessary work of fixing problems like gaps and overlaps between teeth.
Using Invisalign Or ClearCorrect To Make Orthodontic Adjustments
Invisalign and ClearCorrect each use a system of aligners made from clear plastic, which will be custom made for you based on your dentist's examination of your teeth. As your treatment progresses, you will move to different aligners that bring you closer to your ultimate desired results. These aligners can be removed by you, meaning you can remove them so they are out of the way when you eat, or clean your teeth. However, remember that spending too much time with them removed means potentially delaying your treatment time.
Making Positive Smile Changes Through Cosmetic Care From Your Dentist
Your dentist can offer you different methods for making big improvements to your smile. If you are curious about what cosmetic dental care can offer you, let them know. During a consultation, they can make an informed recommendation based on the results you want, and the issues currently facing your smile. They can also inform you of issues that might complicate matters. For instance, if you have intrinsic discoloration, porcelain veneers may be preferable to a whitening treatment if you are pursuing a whiter smile.
Talk To Dr. Koshki About Clear Braces
At Santa Monica Dental Arts, you can talk to Dr. Koshki about fixing your current dental alignment issues with a set of clear braces. This treatment can help you enjoy a corrected smile without the use of a more conspicuous treatment with bracket and wire braces. To learn more about the services we provide our patients, or to schedule a consultation with Dr. Moeiz Koshki, call Santa Monica Dental Arts in Santa Monica, CA today at 310-395-1261.