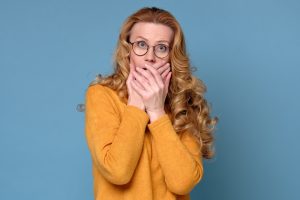 We smile when laughing, when we feel joy, and when we receive good news. Smiling is associated with so many positive experiences, but if you have concerns about the appearance or health of your teeth, you may feel some embarrassment from it. What can you do to address these feelings of self-consciousness? While some problems can be addressed with cosmetic dental work, some issues can be more connected to your oral health. Some people have problems with something that is noticeable, but not visible – bad breath. Our Santa Monica, CA dentist's office has worked with people to give them renewed confidence in their appearance and oral health. After identifying issues that affect you, we can discuss treatment options to give you a renewed comfort with your smile!
Have You Grown Self-Conscious Because Of Bad Breath?
While bad breath is not a cosmetic problem, it is one that can seriously hurt your confidence. If you consistently struggle with this issue and do not know why, it may be due to an issue with your oral or periodontal health. Some problems with halitosis stem from poor oral hygiene. For others with this embarrassing issue, it can be a symptom of gingivitis. You can bring the matter up with your dentist if you are struggling to identify and address the cause of your troubles.
Dealing With Unflattering Teeth Stains
Teeth stains often affect people even when they do a good job preventing cavities from forming. Because so many products we enjoy are able to leave stains behind on a person's enamel, it can be difficult to completely avoid this issue. With that said, a combination of smart diet choices and consistent oral hygiene can help. To remove existing stains, you may want to discuss a professional whitening procedure.
Dental Wear And Tear Can Hurt The Quality Of Your Smile
Dental wear and tear can occur gradually, and it may attract little notice from you or others for most of your life. However, it can become an issue as you age, and it can be more pronounced due to issues like teeth grinding. Porcelain veneers can revive the appearance of teeth that start to look misshapen, or appear dull, as wear and tear affects them. If a tooth is particularly worn down, a dental crown might be needed to protect it.
Our Santa Monica, CA Dentist's Office Can Help You Address Issues With Your Smile
Our Santa Monica, CA dentist's office helps patients who struggle to feel confident with their smile. We can take on oral health issues that have impacted you, and we can discuss options for cosmetic improvements. If you would like to learn more about our practice and our services, call Santa Monica Dental Arts at 310-395-1261.