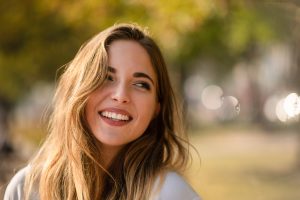 As exciting as it might be to think about a smile makeover, you can be uncomfortable with the thought of a long or involved cosmetic dental treatment process. How long will it take you to see all of the smile improvements that you are interested in? At our Santa Monica, CA dental office, we can provide significant improvements after just one procedure for our patients interested in porcelain veneers. With your veneers, or with slimmer Lumineers, we can hide flaws while improving the shape, size, alignment, and color of teeth! Even people who feel that their teeth are significantly flawed can see meaningful results after just a single procedure.
Changing Your Appearance With Porcelain Veneers
Porcelain veneers improve a person's smile by covering the front of their teeth with custom shells designed to hide visible flaws. When veneers are set, they can hide chips and cracks, as well as wear and tear affecting the shape of teeth. You can also count on these restorations to make your smile appear brighter, even if you have problems with discoloration that resist teeth whitening treatment. Your dentist can even provide carefully constructed veneers that are able to hide gaps and overlaps caused by poor dental alignment!
What To Expect When You Arrange A Cosmetic Procedure
Any time a patient arranges cosmetic treatment with veneers, the first step taken by your dentist will be to carefully plan your procedure. Detailed measurements of a patient's teeth are taken so that veneers can be designed to fit without any issues. Once this is done, your dentist can perform any necessary preliminary work that might be necessary to make your veneers appear natural. If you choose to undergo treatment with Lumineers, you can minimize the work required on your enamel – in some cases, preparatory work can be avoided with Lumineers!
It should be noted that during a preliminary review of your smile, your dentist may recommend an alternative to treatment with veneers. If you have problems with teeth that require more than cosmetic support, lifelike dental crowns may be recommended instead of veneers. If you have issues with poor dental alignment, an orthodontic adjustment may be more appropriate than cosmetic treatment. Fortunately, our practice can provide an adjustment with clear aligners in order to make your correction discreet!
How Long Can My Smile Improvements Last?
With modern veneers, patients can see meaningful smile improvements that last for many years! Porcelain is remarkably strong, so your restorations can maintain their appearance despite regular friction from biting and chewing. With that said, you should keep up with good daily habits if you want to preserve the way you look. Your veneers, like your natural teeth, can experience unflattering changes over time if you maintain poor oral health habits.
Talk To Dr. Koshki About Improving Your Smile With Veneers
At our Santa Monica, CA dental practice, patients can plan significant cosmetic improvements with the placement of porcelain veneers! If you would like to set up a consultation with Dr. Moeiz Koshki, call Santa Monica Dental Arts in Santa Monica, CA today at 310-395-1261.