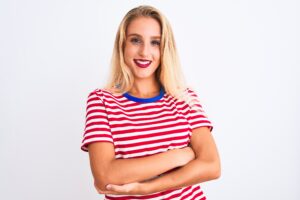 As the years pass, continued exposure to foods and drinks that can cause stains can leave many people with dull, discolored teeth. This can be a frustrating issue, one that is difficult to treat when you do not use the right approach. Fortunately, there are effective ways of dealing with discoloration. By selecting the right treatment for dental discoloration, you can once again flash a bright and lovely smile. Our Santa Monica, CA dentist's office can offer results with an effective teeth whitening treatment. To help you maintain the results that you want to show off, we can offer a take-home kit that lets you fight new stains that you pick up after your procedure.
Has Dental Discoloration Become An Embarrassing Issue For You?
If your smile has taken on a less attractive dull color, it can be hard to feel truly confident in the way you look. Unfortunately, this is something that many people will experience, as a wide range of popular foods and drinks can leave behind particles that cause stains to form. The more time you wait to do something about this problem, the more likely it is to keep worsening and keep hurting your confidence. Depending on store bought whitening agents can have limited results, but you can see more impact from care when you rely on professional cosmetic dental work.
Planning Treatment To Whiten Your Teeth (And Keep Them White)
Professional teeth whitening treatment can take on stains that have settled and dulled the color of your enamel, even when store bought solutions have failed to help. Taking action with professional agents can lead to better results because you can have access to more potent materials. In addition to providing a treatment at our practice, we can prepare kits that our patients take home and use after their teeth are whitened to fight future stains and prevent new cosmetic issues.
Planning Other Cosmetic Services That Can Benefit You
There are more problems than just discoloration to worry about when it comes to your smile. Fortunately, there are more services than just teeth whitening treatment available at our practice! With porcelain veneers or slimmer Lumineers, we are able to take on discoloration that developed within the tooth structure, hide chips and cracks, address problems with poor spacing and symmetry, and generally improve upon how you look.
Talk To Your Santa Monica, CA Dentist About Teeth Whitening Treatment!
Through professional teeth whitening treatments, we help patients take on frustrating problems with stains that have led to smile dissatisfaction. If you would like to find out more about this service, or about any other that we provide, please call Santa Monica Dental Arts in Santa Monica, CA today at 310-395-1261.