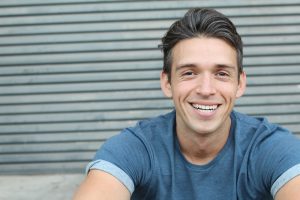 Cosmetic work provided by your dentist can make big changes, and some of the effects they can provide may surprise you. People whose smiles are affected by misaligned teeth often assume their only option is to have orthodontic correction through traditional braces. The idea of using bracket and wire braces can be off-putting, especially for adults who fear they will look less mature. What you should know is that in some cases, you can correct a crooked smile with clear aligning trays, and avoid having your appearance affected. If you qualify, your dentist can help by offering an adjustment using Invisalign, or with ClearCorrect clear braces.
How Invisalign And ClearCorrect Discreetly Make Corrections to Your Teeth
Invisalign and ClearCorrect both use a sequence of clear aligning trays that can make adjustments without drawing unwanted attention. You can wear your aligning tray throughout the day, and not worry about it being detected. You also enjoy a less intrusive correction, because the aligner can be removed when you are preparing to eat, or when you need to clean your teeth. As you progress in treatment, you will move to successive aligners that gradually straighten your smile.
Taking Advantage Of Your Dentist's Cosmetic Services
You may have an easier time seeing big changes to your appearance than you realize thanks to cosmetic dental work. Your dentist can do more than just improve the color of your teeth, though a professional whitening treatment can certainly accomplish this. They also have the ability to perform work that can hide flaws from congenital tooth issues, or from dental damage.
Your Dentist May Be Able To Help Straighten Your Smile
If you qualify for treatment with Invisalign or ClearCorrect, you can look forward to a straight smile without having to wear traditional braces. Dr. Koshki has access to advanced dental technology that allows him to provide expert service, so that you enjoy premiere cosmetic care. The team at Santa Monica Dental Arts can help with your cosmetic, restorative, and preventive dental needs. To learn more about what we do, or to schedule a consultation with Dr. Moeiz Koshki, call Santa Monica Dental Arts in Santa Monica, CA today at 310-395-1261. You can also request an appointment by clicking here.