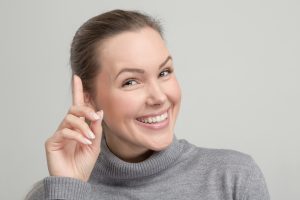 An even, healthy, symmetrical smile can give you great confidence. Unfortunately, it only takes one misshapen tooth to compromise the way you look, and make you reluctant to share your smile with the world. At our Santa Monica, CA dental practice, we understand how damages, natural wear and tear, and even congenital issues can lead to certain teeth disrupting your appearance. With the right cosmetic dental procedure, we can make sure that your issue is resolved in order to boost your confidence in the way you look. While we can focus exclusively on this concern, we can also provide care to help you deal with discoloration, or problems with dental alignment that negatively affect your appearance.
Misshapen Or Damaged Teeth Can Affect Your Overall Smile In A Big Way
Typically, people see symmetrical, unblemished smiles as more attractive. The condition of your smile can also make you appear younger and healthier. If you have a single tooth that seems out of place, it can interfere with your entire appearance. This can happen because of a dental injury, but it can also be the result of a tooth naturally appearing out of place for its shape or size. After evaluating your smile, and learning about your smile goals, you and your dentist can discuss the appropriate cosmetic dental procedure.
Designing Custom Veneers That Can Dramatically Improve Your Smile
At our practice, we can discuss treating your smile with custom cosmetic veneers. Traditional veneers and Lumineers are capable of restoring the shape, size, and even the color of problem teeth. This treatment process requires minimal work on your tooth structure. The first part of the process involves measuring any tooth receiving care, and preparing a tooth to receive it. While both veneers and Lumineers are slim, Lumineers boast an extra-thin design that can limit that already conservative amount of work needed for a tooth. Once your custom restoration is ready, your dentist will bond it to your tooth, so it covers any cosmetic concerns that have bothered you.
Reviewing All Of Your Options For Smile Improvement
Veneers offer one approach to making meaningful improvements to a person's smile. At our practice, we can provide several procedures that help our patients feel great about the way that they look. In addition to improving the way you look with veneers, we can address a problem tooth by restoring it with a porcelain dental crown. This has the added benefit of protecting a tooth, in case your problem tooth also makes biting and chewing difficult.
Talk To Dr. Koshki About Correcting Problems With Misshapen Teeth
At our Santa Monica, CA dental practice, we are ready to meet with individuals who want to make improvements to the way they look. If you are ready to learn how your smile can be improved, call Santa Monica Dental Arts in Santa Monica, CA today at 310-395-1261.