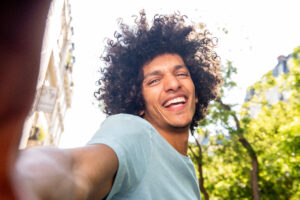 There are different reasons why people visit their dentist. Aside from concerns about oral health, we can address concerns that patients have about their appearance. At our Santa Monica, CA dentist's office, we can provide services to make exciting smile changes, and we can even help make sure those changes last. One way we can help is by providing a long-term solution for dental discoloration. In addition to taking care of tough stains with an in-office treatment, we can supply the materials you need to keep fighting discoloration in the future. We are happy to discuss the impact that teeth whitening treatment can have, and we can also help you explore the benefits of other cosmetic services offered at our practice.
Have Issues With Dental Discoloration Hurt Your Appearance?
Dental discoloration is an issue that many people have, one that can lead to teeth looking dull and unhealthy. There are products on store shelves that offer help with this problem, but they can fail to give you the results you want. When you need something more potent, you can talk to your dentist about a professional teeth whitening procedure. In cases where patients have issues with intrinsic discoloration, we can offer another solution, one that is better equipped to help you see the changes you want.
Keeping Your Teeth Safe Against New Stains After A Whitening Procedure
We can provide an in-office teeth whitening treatment to make your smile significantly brighter in just one appointment. In addition to providing this service, we can help you fight stains that can form after your procedure by providing a kit with advanced bleaching agents. By doing so, we can give you the resources to "touch up" your enamel and keep your teeth at a level of whiteness that makes you comfortable with the way you look.
Dealing With Intrinsic Discoloration
Intrinsic discoloration occurs for different reasons, and it can be a serious source of frustration for those who experience it. By taking it on with cosmetic dental work, you can hide these internal blemishes and make meaningful improvements to the way you look. With porcelain veneers, we can hide this and other problems with your appearance. These slender restorations are capable of changing tooth shape, size, and color in just two appointments.
Talk To Your Santa Monica, CA Dentist About How To Keep Your Smile Bright
After helping you fight the stains that currently affect your smile, we can provide you with materials to keep new stains from gathering! Dental discoloration is one of many cosmetic concerns that our practice is happy to help you manage. If you would like to learn more about how we can help you, please call Santa Monica Dental Arts in Santa Monica, CA today at 310-395-1261.