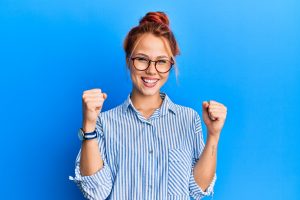 Whether you have always had some concerns about your smile, or only recently grew concerned about it, a conversation with your Santa Monica, CA dentist about cosmetic dentistry can benefit you. Through the right procedure, we can take on the issues you have with the way you look and give you a smile that you are eager to share with the world. Problems with discoloration, dental damage, wear and tear, and even naturally occurring problems with the spacing and look of teeth can be addressed after as little as one procedure.
How Do You Feel About Your Smile?
Many people have some concerns around the way they look when they smile. Whether you have slight but still frustrating issues you would like to move past, or more significant issues that are difficult to hide, you can find that cosmetic dentistry is able to help. We use teeth whitening treatment to fight enamel stains, a common concern. For trouble with the shape, size, or position of your teeth, we can discuss treatment with porcelain veneers or Lumineers. In some cases, veneers can actually be a preferable choice when dealing with discoloration, as they are capable of hiding intrinsic discoloration that is difficult to address through teeth whitening.
Discussing The Advantages Of Professional Teeth Whitening Treatment
Why discuss professional whitening treatment when you can find a store bought whitening kit at your local grocery shop or pharmacy? The products that are available on the shelves of these stores can help you remove any recently acquired stains, but they can be less effective when you want to deal with a more significant buildup of stains that may have occurred. We can even provide a kit that lets you "touch up" your smile and fight future stains after a procedure has been performed!
Using Veneers To Make Several Smile Improvements
We can provide you with porcelain veneers that restore the condition and quality of your smile by hiding wear and tear, chips or cracks in your enamel, and more! Veneers are carefully-made shells that cover the front surfaces of teeth to hide visible flaws. They can help with more than just tooth shape and size – they can deal with intrinsic discoloration, and in some cases they can resolve problems with poor smile alignment. With that said, we may suggest that we use Invisalign aligners to deal with more serious gaps or overlaps between teeth.
Talk To Your Santa Monica, CA Dentist About Cosmetic Work!
Santa Monica Dental Arts is ready to take on the concerns you have about your appearance! To discuss a specific concern about your appearance, or to learn more about your options for cosmetic care, please call our dental office in Santa Monica, CA today at 310-395-1261.