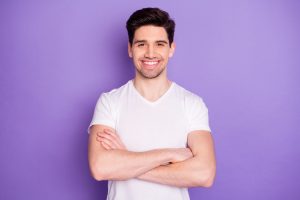 The impact of habitual teeth grinding on your smile can be significant. The longer it takes for you to bring a stop to this problem, the more severe your dental wear and tear can become. Even if the damage does not affect your oral health, it can make you self-conscious because it makes your teeth look older and less healthy. At our Santa Monica, CA dentist's office, we can use custom dental veneers to restore teeth harmed by excess wear and tear. Because we offer slimmer Lumineers in addition to traditional veneers, we can provide a treatment that restores your appearance while making minimal changes to your enamel.
Past Teeth Grinding Issues Can Have Lasting Impact On Your Smile
Even if you have successfully put a problem with teeth grinding behind you, it may be difficult for you to feel comfortable with your smile because of accumulated wear and tear. If your teeth appear flat, misshapen, or visibly damaged by your habit of grinding or clenching, you may feel put off by the idea of showing off your smile anymore. Fortunately, just a single cosmetic dental procedure can be enough to give you back your confidence!
Scheduling Cosmetic Treatment With Porcelain Veneers
With porcelain veneers, we can take care of teeth that are flattened, damaged, or generally misshapen due to the friction from teeth grinding or clenching. Veneers are used to cover the fronts of teeth and hide different flaws. In addition to making teeth look healthier, they can make your smile appear straighter and brighter. We use conventional veneers for treatment as well as slimmer Lumineers. Because Lumineers require less space, they limit the amount of work needed on your tooth structure during treatment.
Restoring Damaged Teeth With Dental Crowns
When wear and tear affects your oral health or interferes with your bite function, it can be necessary to use porcelain dental crowns instead of veneers for treatment. The benefit to receiving crowns is that they protect teeth and give them better bite support. What this means is that through treatment, you can feel a renewed sense of comfort with your smile as well as your ability to bite and chew!
Talk To Your Santa Monica, CA Dentist About Cosmetic Treatment
If a history of teeth grinding has hurt your smile, know that our Santa Monica, CA dentist's office is ready to help you. Through cosmetic dental treatment, we can restore teeth so that they look healthy and attractive, and are no longer negatively impacted by wear and tear. To learn more about our cosmetic services, or to discuss other procedures we can provide to help you, please call Santa Monica Dental Arts today at 310-395-1261. In addition to cosmetic work to hide damage, we can help with discoloration, poor smile alignment, and other concerns!