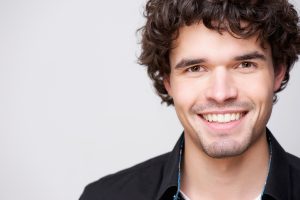 It can be a relief to find one answer to several problems that affect you. When it comes to your smile, you may worry that a single solution will not be enough to deal with all of the concerns you have about your appearance. What you should know is that with porcelain veneers, or Lumineers, you may be able to cover up all of the problems that affect you in the course of one treatment! You can make an appointment at our Santa Monica, CA dentist's office to discuss the process of receiving veneers, and what changes you can see after you have them placed!
Crafting Veneers That Are Customized To Fit Your Teeth
How can veneers make effective cosmetic dental improvements for so many people? Smiles can vary greatly from person to person. Because of this, people can have remarkably different needs when they want to make changes to the way their teeth look. Veneers are custom-made for an individual, with their shape and size determined by the teeth they are meant to restore, and by the changes you are hoping to see through treatment.
What Kind Of Improvements Can Your Veneers Make?
How would you like to cover up dental discoloration, while also hiding problems with certain teeth that appear misshapen? Would you be interested in covering up smile flaws that concern spacing between teeth, as well as problems with teeth that appear jagged or damaged? With veneers, you can address your concerns about the shape, alignment, and size of your teeth. Patients who are concerned about seemingly significant dental problems can breathe a sigh of relief when they discover that a single procedure is able to do so much for the way they look!
Using Veneers As An Alternative To Orthodontic Treatment
You can make great improvements to the way you look when you correct gaps and overlaps between teeth. Our practice offers Invisalign aligners, which allow patients to move their teeth without having to wear conspicuous braces. While Invisalign can be easier to fit into your life, you may be curious what you can do to see smile improvements in less time. In some cases, veneers can actually make your smile appear straighter! To learn if this is a potentially effective solution for your alignment issues, schedule a consultation!
Talk To Dr. Koshki About Receiving Custom Porcelain Veneers
If you are eager to see how your smile can be transformed, reach out to Dr. Koshki at Santa Monica Dental Arts! Our practice is proud to offer improvements with porcelain veneers, and through other services that we provide. We are always excited to help a resident of Santa Monica, CA, or the surrounding area, make significant improvements to their appearance! To arrange a consultation with Dr. Moeiz Koshki, call Santa Monica Dental Arts in Santa Monica, CA today at 310-395-1261.