Did you know that Americans cite bad breath as the least attractive trait a co-worker can have? Be more popular around the water cooler and brush after lunch.
Cap the paste but not the brush. Covering the brush can trap moisture and encourage bacteria growth. Yeah, we know. Gross, huh?
The average women smiles about 62 times a day, while the average man smiles only 8 times. Women are also more likely to brush their teeth and visit the dentist regularly. Think there might be a connection here?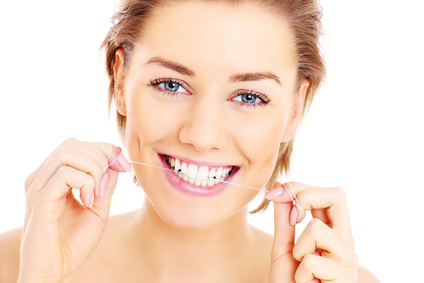 MacGyver claims dental floss works well as a cake cutter, makeshift clothesline, replacement fishing line, picture hangers and much more. Our favorite use for it? Cleaning your teeth. Dental floss has played a role in many attempted prison breaks, used as everything from a rope to a chainsaw. None have been successful. We suggest flossing with it.
Bottled water doesn't contain the tooth-decay fighting fluoride, which is added to most municipal water supplies. Ditch the bottle and drink from the tap.
Saliva helps you eat by breaking apart food particles and cleaning your mouth afterwards. The average person produces 10,000 gallons of saliva over their lifetime (no data as to how much winds up as spitballs).
Sports, accidents and fights are the leading cause of tooth loss in people under the age of 35. Play it safe and wear a mouth guard.
Each day, the average person spends 8.5 hours sleeping, 1 hour eating, 7.2 minutes volunteering and only 50 seconds brushing their teeth. Set your alarm 2 minutes earlier and squeeze in some extra brush time. Dentists recommend 2-3 minutes twice a day.
Americans spend $100 billion per year on hair care products – and only $2 billion a year on dental care products. What good is great hair without a great smile?
The next time you want to play hooky, head to the dentist for a cleaning instead. Last year alone, adults missed over 164 million hours of work – and children missed over 51 million hours of school for dental related problems.
If flossing properly, the average person should use 122 yards of floss per year. Twenty-eight percent of people claim to floss daily, but annual sales data shows only an average of 18 yards of floss are sold per person. We think someone's fibbing.
Spearmint Sparkle. Peppermint Breeze. Chocolate Mint? The next time your dental hygienist asks you to pick a flavor of paste, consider this – the ancient Romans used a mixture of bones, eggshells, oyster shells and honey to clean their teeth! We recommend you stick with the paste.