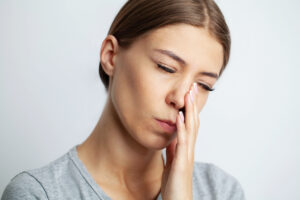 When biting and chewing become uncomfortable, it can be hard not to suspect that something is amiss with your oral health. Unfortunately, people who experience jaw pain and stiffness can write the matter off and delay treatment. This can lead to persistent pain along with the onset of headaches, neck and shoulder discomfort, and even a tendency toward nightly teeth grinding! The issues that you are experiencing can point to TMJ disorder, an issue with the alignment of the jaw joints and movement. At our Santa Monica, CA dentist's office, we can use laser technology to provide a comfortable treatment for your uncomfortable condition.
Is TMJ Disorder Currently Affecting Your Quality Of Life?
There are different warning signs that you have an issue with your jaw alignment and movement, including:
More frequent issues with headaches
A tendency for your jaw movement to feel stiff, uncomfortable, or awkward
Problems with tenderness or pain in your face and jaw area
Trouble with neck and shoulder discomfort
Teeth grinding that can take place during the night
There are different reasons why people start to have this problem. Fortunately, when the matter is brought up with your dentist, it can be treated so that discomfort no longer affects you.
Using Laser Technology To Resolve Problems With Discomfort
Our practice relies on TMJ treatment that uses laser technology. With laser tools, we are able to address inflammation in the muscles and joints of the jaw. A limited number of sessions can be all that you require to enjoy meaningful pain relief!
Laser technology is useful for more than just this service. Patients who visit us can look forward to more comfortable cavity treatments with fillings, advanced assistance with gum disease, and even treatment for cold sores that use lasers!
Correcting Issues With Your Dental Health That Affect Your Bite
An evaluation of your oral health can be important when you bring up problems with your bite. There are times when these issues stem from problems with teeth that are either too small or no longer in sufficient health to offer the right bite support. Fortunately, a porcelain crown can provide the coverage needed to restore your dental function and also preserve how you look.
Talk To Your Santa Monica, CA Dentist About TMJ Treatment!
When TMJ problems are not being treated, they can cause significant discomfort over time. Rather than continue to live with the pain, talk to our Santa Monica, CA dentist's office about treatment! Our approach to care can make effective use of laser tools to reduce inflammation and resolve troubles with painful or limited jaw movement. If you are ready to learn more about how we can help you, please call Santa Monica Dental Arts in Santa Monica, CA today at 310-395-1261.