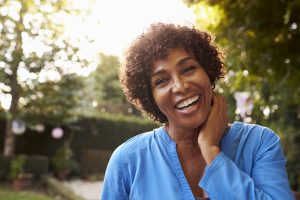 When you compare your smile in old pictures to your smile today, you can tell that the color of your teeth have changed. While people often assume that changes in smile color stem from teeth stains, this is not always the case. You may have problems with discoloration because of enamel erosion, or as a consequence of using a certain medication. At our Santa Monica, CA dental office, we are prepared to help you brighten your smile. To make sure your experience with cosmetic dentistry is a successful one, we can take the time to determine what is affecting your tooth color, and recommend the appropriate treatment.
The Cause Of Your Dental Discoloration Can Affect Your Recommended Treatment
Why would we care what happened to affect your smile's color? It is important to distinguish between causes of discoloration because the root of your troubles can determine the appropriate response. If you have extrinsic discoloration – stains that have gathered on your enamel – a teeth whitening procedure can be effective. However, for problems that are not related to stains, a different solution can be appropriate. Porcelain veneers often help individuals who have discoloration, but in some cases a dental crown might be recommended for more significant issues.
Arranging A Treatment With Professional Whitening Agents
In the span of a one-hour appointment, our practice can provide a whitening treatment that can make your smile up to ten shades brighter! We use a combination of advanced whitening agents and a special curing light to rapidly address unwelcome teeth stains. When under the light, the bleaching gels available at our practice are able to both address stains, and oxidize your tooth structure, for a stunning improvement.
Discussing The Placement Of Veneers To Restore Teeth Affected By Internal Discoloration
Discoloration that results because of a tooth injury, enamel erosion, or from taking certain medications can be unflattering and frustrating. It can be particularly upsetting to hear that your concerns about your smile color might persist even after a whitening treatment. When you have these problems, it can be more effective to improve your smile color with porcelain veneers. Veneers are crafted to fit on the front of teeth, and hide flaws like blemishes, damage, and any other superficial tooth concerns. In order to provide more coverage for a significantly darkened or stained tooth, a porcelain dental crown may be recommended.
Talk To Santa Monica Dental Arts About Your Dental Discoloration Concerns
At Santa Monica Dental Arts, our practice is ready to help individuals who are bothered by dental discoloration. Dr. Koshki can help by offering professional whitening treatment, or by improving your appearance with porcelain veneers. For more information about our cosmetic and oral health services, call Santa Monica Dental Arts in Santa Monica, CA today at 310-395-1261.