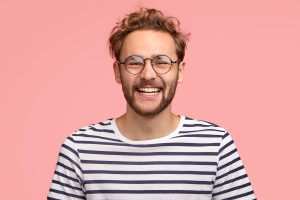 Even if your smile is evaluated and found to be cavity-free, you may find yourself feeling unhappy with it. Healthy teeth can look less attractive when teeth stains have built up over time and left your enamel dull or discolored. At our Santa Monica, CA dentist's office, we are prepared to help patients deal with frustrating stains. You can rely on a professional whitening treatment to deal with discoloration that you have struggled to address over time. If we find that your issues with your smile color are not connected to stains, we can review other cosmetic dental procedures that might benefit you.
Dental Discoloration Affects Many People
You can find that your smile is gradually losing its whiteness even if you are keeping it protected against dental decay. This can be frustrating – even though your teeth are healthy, your smile can start to make you self-conscious. Many people are affected by this accumulation of stains over time. It can be particularly hard to avoid them if you use tobacco products, or if you frequently enjoy products like coffee, tea, and others that are dark or rich in color.
Arranging A Teeth Whitening Treatment
The treatment for teeth whitening we provide can be completed in as little as one hour. By using potent bleaching agents stimulated by a special light, we can see to it that stubborn stains that affect your enamel are broken up. This approach can produce results that store bought whitening agents and toothpastes are not able to match! To help you stay confident in your smile, we do offer a kit for teeth whitening that you can take home. Kits include custom trays and bleaching gels that you can use on your own to touch up your teeth if they begin to look dull again.
What If Something Other Than Teeth Stains Are Responsible For Your Discoloration?
Do teeth stains account for all problems with discoloration? You may have problems with discoloration because of enamel erosion, dental trauma, or even because of certain medications that you may have taken. These problems can be difficult to treat effectively with a whitening procedure. Fortunately, we do have the option of restoring your smile color with porcelain veneers. These restorations are placed over the fronts of your teeth, giving them coverage to make them brighter. Veneers also help with problems that concern the shape, size, and alignment of teeth.
Santa Monica Dental Arts Can Help You Show Off Whiter Teeth!
At Santa Monica Dental Arts, patients who are bothered by the color of their smile can look forward to exciting results provided by our professional whitening treatments! This is one of many cosmetic procedures that we can offer in order to make you more confident in the way you look. If you wish to find out more, please call our dental practice in Santa Monica, CA today at 310-395-1261.