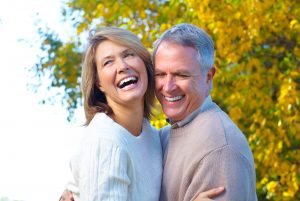 Using prosthetic dental work to restore your smile can have important benefit for your smile, and it can help you improve your oral health. If you want to make sure your restorative dental work leads to improvements that affect your daily life, you can ask your Santa Monica, CA dentist about dental implant support. Using dental implants to hold your prosthetic will give you more stability for biting and chewing, which can improve your dietary range, and make you more comfortable eating in public. Because modern prosthetic appliances can look remarkably similar to natural teeth, you can feel that your full smile is regained while you enjoy functional advantages!
You Can Address Tooth Loss With Prosthetic Work That Looks Great, And Has Functional Value
Dental implants provide your prosthetic with a permanent stabilizing presence. The implant, which is placed in your jawbone, effectively acts the way a tooth root acts when it comes to holding a tooth in position. This stability makes it easier for you to bite and chew. It can also provide important support for your jawbone. Without an implant, tooth loss will lead to an issue known as jawbone resorption. This problem, which will lead to a loss in bone density, can be avoided thanks to the stimulation in your jaw provided by the implant.
Will I Be Approved For Dental Implant Placement?
Patients are frequently approved for dental implant placement. You can improve your chances of easy approval by seeking help with tooth loss as soon as possible. There are cases where a longer wait has led to a deterioration of your jawbone – if this occurs, your dentist can recommend a jawbone graft to restore the bone. Work to address gum disease may also be needed before moving forward with your placement.
Talk To Santa Monica Dental Arts About Addressing Tooth Loss With Dental Implants
If you want to do something about tooth loss, you can learn how dental implant support provides lasting benefits. Santa Monica Dental Arts is proud to help patients enjoy their best smile care, even when they face issues with tooth loss. If you would like to schedule a consultation with Dr. Moeiz Koshki, call Santa Monica Dental Arts in Santa Monica, CA today at 310-395-1261.