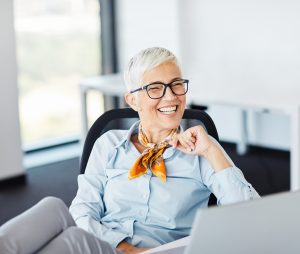 The changes you see after cosmetic dental work should fill you with confidence. With just a single procedure, our Santa Monica, CA dentist's office is able to change the color, condition, shape, and size of teeth. This is possible because we offer treatment with traditional porcelain veneers as well as thinner Lumineers. These restorations have helped many people boost their confidence and show off brighter, more youthful smiles. Veneers actually offer long-term benefits as well as immediate improvements. The porcelain material that is used to make them can withstand years of friction generated by biting and chewing, so you can retain your improved smile for many years!
How Do Veneers Change The Way You Look?
Veneers cover the fronts of teeth. While only a limited portion of your tooth structure is covered, it is possible to make many changes to your appearance. When in position, veneers can brighten teeth by hiding blemishes and issues with dull tooth structure. They also cover up chips and cracks, as well as general wear and tear issues. In addition to improving the shape, size, and color of teeth, they will be able to hide gaps and overlaps that stem from problems with your smile alignment.
What To Expect When Your Smile Is Restored
To make space for your veneers, some preparatory work will have to take place, though in some cases this can be unnecessary when patients receive Lumineers. At an initial appointment, your dentist will measure your teeth and also make minor modifications to create space for these shells to be placed. When your custom veneers are ready, you will return to our practice to have them bonded onto the front surfaces of your enamel. When in place, veneers make significant changes while still preserving a natural look for your smile!
What Else Can I Do To Have My Smile Improved?
Some issues with malocclusion are simply too severe to be treated with veneers. Fortunately, we can still move forward with treatment by recommending Invisalign treatment. Invisalign aligners are clear, so they will not attract unwanted attention. They gradually shift teeth into better positions so that gaps and overlaps are no longer a concern. If you have no issues with the shape or size of teeth, but hope to restore your smile's color, we can recommend moving forward with a professional whitening procedure.
Talk To Your Santa Monica, CA Dentist About Receiving Veneers!
With porcelain veneers or Lumineers, you can see dramatic smile improvements that you are eager to start showing off! If you want to learn more about this particular approach to treatment, or if there are other procedures that you wish to discuss with us, please call Santa Monica Dental Arts in Santa Monica, CA today at 310-395-1261.