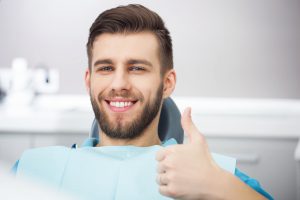 How much attention do you pay to advances made in the field of dentistry? It may seem like a silly question for patients, but being aware of the modern treatments available to you can improve your overall experience. Dental treatments that use lasers have allowed your dentist to provide care that will offer remarkable benefits. Using lasers can be beneficial to work on your gum tissue – with lasers, your dentist can reduce bleeding and recovery time. Laser treatments also offer superior detection, so that your dentist can respond to problems earlier. You can even rely on lasers to help clean your teeth!
How Lasers Help With A Range Of Different Dental Treatments
Lasers can be especially valuable when your dentist needs to take a sample of soft tissue, or when they need to remove excess or unhealthy gum tissues. Using a laser instead of a scalpel for these jobs can reduce the amount of bleeding that can occur, while also encouraging a faster recovery. This can be beneficial during cosmetic dental work targeting your gums. Lasers are also helpful at uncovering wisdom teeth before an extraction, or for taking a sample for a biopsy to check for oral cancer.
Preventive Services Improved By Laser Treatments
Removing plaque and tartar from teeth will protect you against possible cavities. During a cleaning, lasers can be used to rid your smile of these unwanted accumulations of bacteria and film. A scaling and root planing procedure, used to protect patients against gum disease, can use lasers for an improved treatment experience. In fact, your dentist can even use lasers to close periodontal pockets that encourage a buildup of plaque. Paying attention to your gums is of particular importance, as advanced gum disease is the leading cause of tooth loss for adults.
Talk To Dr. Koshki About Laser Dentistry
Many treatments can be performed more accurately, and with less bleeding, thanks to the use of lasers. At Santa Monica Dental Arts, you can look forward to modern dental treatment from Dr. Koshki. To learn more about the services we offer, or to schedule a consultation with Dr. Moeiz Koshki, call Santa Monica Dental Arts in Santa Monica, CA today at 310-395-1261.