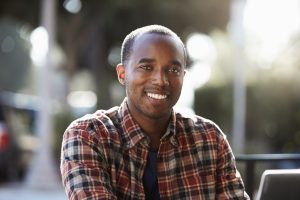 So you find yourself in need of dental work to address a damaged tooth. Maybe you have to set an appointment because of a chip or crack that looks worrying. It might be time for restorative dental work because you have pain that may be the result of a cavity. In any case, you should know that the right treatment can lead to protection for your tooth that improves its condition, while also offering benefits for your smile. Your Santa Monica, CA dentist can offer that support with a modern dental crown. Your crown will be carefully made to fit your tooth, and designed so that it appears to be a natural presence in your smile! In addition to offering a secure fit, and the right look, your restoration will allow you to feel confident that your tooth is protected when you bite and chew.
Modern Crowns Are Made For Durability, And Cosmetic Benefits
Modern dental crowns recognize the value of an attractive restoration, even as your dentist is mindful that your work needs to keep your tooth protected. To ensure you feel comfortable with your crown placed, your dentist will take detailed measurements to ensure that the crown is sized just right. Because it is constructed with material that carefully mimics the enamel of your surrounding teeth, you can count on it to fit in visually, while also providing a comfortable fit.
Prompt Smile Care Is Important When You Think Something Might Be Wrong With Your Tooth
How quick should you be to respond to signs of poor dental health? If you think something might be wrong, understand that waiting creates the risk for the problem to worsen. If you ignore dental damage, the structural threat of that damage could lead to more harm. If you are trying to ignore the signs of tooth decay, you should be aware that your tooth will continue to suffer damage until your dentist treats it.
Dr. Koshki Can Offer Patients A Dental Crown That Looks Great, And Provides Important Support
Santa Monica Dental Arts welcomes patients who need to have a problem tooth repaired and restored. Dr. Koshki understands that the right restoration is the one that improves the way you look when you smile, while also addressing any concern with your tooth's stability and durability. To learn more about the services we offer, or to schedule a consultation with Dr. Moeiz Koshki, call Santa Monica Dental Arts in Santa Monica, CA today at 310-395-1261.