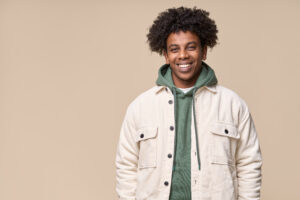 If you have been looking for a way to gently lift the stains from your enamel, you might be disappointed with the results from the supermarket. Your discoloration may remain after the use of whitening toothpastes and rinses, and the improper use over-the-counter systems may cause lasting damage to your enamel. When you need a treatment for your stained or discolored teeth, be sure to talk with a trusted oral health professional about your options in treatment.
With our team in Santa Monica, CA, you can whiten your smile with the help of a dentist in order to keep an eye on your enamel health throughout the process. We offer you two distinct forms of cosmetic improvement so that you have a solution that works with your timeline and comfort level. For some, at-home whitening can be a positive way to lift enamel stains, while others would prefer a single appointment in the office to eradicate those stubborn stains. Talk to your provider about all of your options in cosmetic dental treatment!
Speak With Your Dentist About Professional Whitening Before You Make A Change
These days, it seems like there are an endless amount of drugstore products available for whitening, but these can often be ineffective at treating your condition. Take the time to talk to your dentist before you try these products, as you could be wasting your money on an option that does not work for you.
When you improperly use these, you can cause lasting damage to your teeth. You can weaken your enamel, which is the hard exterior surface of your tooth. When this happens, you can experience dentin sensitivity, so be sure to protect your enamel throughout your cosmetic whitening process. Talk to a trained dental professional and receive an examination before making and significant changes to your routine.
We Give You Options In Your Cosmetic Teeth Whitening Process
If your dentist has identified extrinsic staining as the cause of your dull or yellowed smile, you can then discuss your options in cosmetic teeth whitening. We can help you with two different forms of treatment, starting with our comfortable at-home trays. Simply fill these with our lifting agent and wear them for a set period!
You can also come into the office for a speedy treatment from our team. Zoom! whitening starts with an in-office appointment that usually takes a little over an hour. Take charge of your appearance with a cosmetic whitening procedure!
Cosmetic Teeth Whitening In Santa Monica, CA
When you need to renew your smile, be sure that you speak with a trusted dental professional about your options. Give us a call today to learn more at Santa Monica Dental Arts in Santa Monica, CA at (310)395-1261!