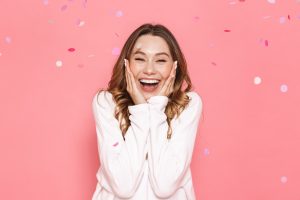 Even if the gap is relatively small, extra space between teeth can draw unwanted attention. When you smile, you may fret over how that additional space throws off the symmetry of your smile, or how it tends to command attention at the expense of your overall appearance. Fortunately, this is a problem your Santa Monica, CA dentist's office is ready to address! We can take care of spacing issues with clear aligners. Invisalign aligners are capable of moving teeth in order to close a gap and make your smile more symmetrical. We also provide other cosmetic dental services that can help with spacing issues caused by misalignment or problems with tooth size.
Problems With Teeth Spacing Can Embarrass You
Teeth spacing can be a sensitive matter. If your teeth are just a little too far apart for your liking, it can make you unhappy with your overall smile. Sometimes, a gap will be present because a person's teeth are not as well aligned as they should be. While this problem, known as malocclusion, affects many individuals, it is not always the cause of a spacing issue. You may also have extra space between teeth because one tooth is smaller than it should be.
Beginning Treatment With Clear Aligners
You can move forward with treatment that relies on Invisalign aligners to discreetly move your teeth. Both of these options offer more convenience than traditional metal braces, as you can remove them whenever you choose to do so. They should be kept in place throughout the day to keep you on pace with your correction, but you can have them out whenever you eat or clean your teeth. Because they are difficult to see, both treatment options make it easier for you to avoid drawing unwanted attention for having your smile adjusted.
Other Cosmetic Services You Should Know About
If you have a gap between teeth because you have an undersized tooth, we can help by capping a veneer to the front of the tooth and closing the excess space. A veneer only covers a small area – while it covers a tooth's front surface, the rest of its structure remains unchanged. We can also restore your smile by putting a porcelain dental crown on a smaller tooth. A crown will completely cover the tooth – this can be beneficial if its small size makes it less useful for biting and chewing.
Talk To Our Santa Monica, CA Dentist's Office To Learn How We Can Close Your Smile Gap
By scheduling treatment to close a smile gap, you can put an embarrassing smile flaw in your past! Our Santa Monica, CA dentist's office can discuss this and other services to improve the way you look – to find out more, call Santa Monica Dental Arts at 310-395-1261.