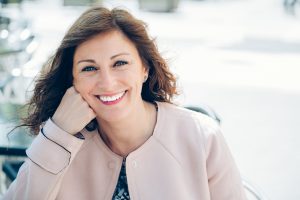 You use your teeth to bite and chew at several points throughout each day. On a typical day, this can do little to affect your enamel – after all, this material is remarkably tough! Over time, however, the effect of all that wear and tear can start to change the look of your smile. You may feel that your teeth appear less even. If you have an unusual amount of wear and tear (this can be a particular problem for people who grind their teeth), you can worry that your smile is making you look older. Fortunately, your Santa Monica, CA dentist's office can help by providing the kind of cosmetic dental care that makes your smile appear younger, healthier, and more attractive.
Cosmetic Dental Work Can Help You Look Younger And Healthier
Your smile can appear natural, though decidedly more attractive, after you complete cosmetic dental work. You can count on porcelain veneers to cover up issues with wear and tear – including visible chips and cracks – so that your teeth have a more attractive look. These cosmetic restorations are also able to improve teeth that are naturally misshapen, as well as those that seem discolored. As a result, you can count on your smile to give you a healthier and more youthful look after just one procedure!
What To Expect From A Cosmetic Procedure
During your first visit to discuss cosmetic care, you can learn more about a procedure, and have your dentist review the current state of your teeth. An initial review is important, because it can reveal any problems that might need to be addressed with restorative dental work before you focus on cosmetic changes. After this is completed, you can move forward with treatment.
When it comes to having veneers placed, your dentist will measure your teeth, and do some preliminary work to make space for these restorations. If you opt for Lumineers instead of traditional veneers, less preliminary work – or even no work – can be needed.
Some Issues With Wear And Tear Can Call For Dental Crowns
While veneers offer great cosmetic improvements, your dentist may be concerned about the effect wear and tear may have had on the condition of certain teeth. In any situation where a tooth's health is a concern, a dental crown can be recommended as an alternative treatment. Thanks to their construction with lifelike porcelain, these crowns can still have real value when it comes to changing your smile for the better!
Talk To Santa Monica Dental Arts About Addressing Smile Issues Caused By Wear And Tear
Wear and tear accumulated over time can be a real problem for your smile. Fortunately, Dr. Koshki at Santa Monica Dental Arts can help! Our practice is proud to make quality cosmetic services available to individuals who want to feel great about the way they look. To schedule a consultation with Dr. Moeiz Koshki, call Santa Monica Dental Arts in Santa Monica, CA today at 310-395-1261.