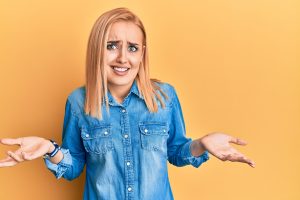 What can you really gain from a cosmetic dental procedure? How much good can your Santa Monica, CA dentist do when it comes to improving your appearance? As you look into the benefits of cosmetic services, you may be surprised at just how beneficial they can be, and how much value a single procedure can offer. We provide multiple services that address a variety of different flaws. We are prepared to help people who feel embarrassed because of dental discoloration, those who are worried about the condition, shape, or size of teeth, and even those who need to do something about crooked or poorly spaced teeth! As you look into the benefits of treatment, you can discover that a single procedure may be all it takes to deliver significant results!
Do You Feel Self-Conscious Because Your Smile Is Flawed?
Even small dental flaws can be noticeable enough to make people self-conscious about their appearance when they smile or speak. You may worry that people can tell your teeth have dulled in color over time, or that one tooth stands out because of poor alignment, or because of its shape or size. When you bring these concerns to your dentist, you can find out about treatments that deliver exciting improvements!
Why People Ask Their Dentist For Help With Teeth Stains
If you have already tried to remove teeth stains with a store bought whitening kit, you can be well aware of how hard it can be to significantly brighten tooth enamel without your dentist's help. By bringing up discoloration at the dentist's office, you can learn about the advantages of undergoing a professional teeth whitening treatment. At our practice, we can perform a one-visit whitening procedure to remove tough stains. In order to preserve the improvements we have made, we can send you home with customized whitening trays and bleaching agents to use whenever you want to "touch up" your smile and fight discoloration.
Undergoing Treatment To Address Misshapen Or Misaligned Teeth
Misshapen teeth, dental damages, and problems with malocclusion can be difficult to hide. Fortunately, these are issues that we are ready to take on for you! We can address several issues at one time when we place porcelain veneers on teeth. Veneers are thin, personalized shells that are bonded to the fronts of teeth. Their placement hides problems like discoloration, wear and tear, issues with undersized teeth, and even problems with alignment! We can also help those with more significant spacing issues by providing Invisalign appliances, which gradually move teeth into more attractive positions.
Talk To Santa Monica Dental Arts About Cosmetic Dentistry!
Your Santa Monica, CA dentist's office is here to help if you want to do something about embarrassing smile flaws! To learn how we can support you, please reach out to Santa Monica Dental Arts today at 310-395-1261.