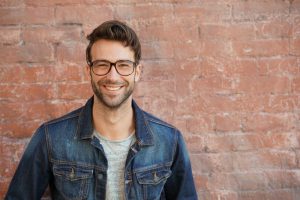 If you need work done to restore a tooth suffering from a cavity, you may have unhappy visions of your smile disrupted by a prominent restoration. What you should know is that thanks to modern materials, you can actually have a natural-looking smile even after you receive a dental crown, or a filling. Composite resin fillings offer support for a tooth that will blend in with the surrounding enamel. Crowns made from porcelain and zirconia closely mimic the appearance of natural teeth. When placed, a porcelain or zirconia crown can actually improve how you look by covering a less attractive tooth.
Receiving A White Filling
The composite resin used to make fillings is capable of making cosmetic improvements. In fact, if you have a minor esthetic issue, like a small chip or crack, composite resin can provide coverage. When you need a filling, this material is bonded directly to your tooth, and can effectively replace the material that was removed due to a cavity.
Having A Dental Crown Created And Placed
Dental crowns can offer both a functional and a cosmetic improvement to your smile when you place one over a vulnerable tooth. In addition to using crowns for severe cavities, they can help with physical damage, or to support teeth that are abnormally small or weak. In some cases, a crown can be recommended for serious discoloration issues. When you need a crown, it will be custom-made, so that it fits your smile comfortably. When you receive a biocompatible porcelain crown, you can avoid unnecessary friction with neighboring teeth, offering further support against discomfort.
Talk To Dr. Koshki For Natural-Looking Restorative Work
If you need restorative work for a cavity, or for dental damage, talk to Dr. Koshki about a natural-looking restoration. You can preserve the appearance of your smile with a composite resin filling, or with a dental crown made from porcelain, or zirconia. At Santa Monica Dental Arts, every staff member wants to see you have a comfortable experience at every visit – they also want to see you come away from a visit with a terrific-looking, healthy smile. To learn more about the services we provide, or to schedule a consultation with Dr. Moeiz Koshki, call Santa Monica Dental Arts in Santa Monica, CA today at 310-395-1261.