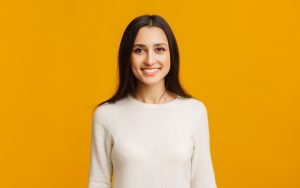 Many people who have expressed interest in cosmetic dental work have been excited to learn just how much they can do for their appearance with custom porcelain veneers. By designing and placing these custom restorations on your teeth, your Santa Monica, CA dentist can help you address discoloration, damage, misalignment, and other concerns. These appliances require relatively little work on your natural tooth structure, and their durable porcelain material can ensure that your results last for an extended period! While this is not the only cosmetic procedure offered at our practice, it may be the only one you need to make all of your desired changes to your appearance.
Using Veneers To Address Misshapen, Damaged, Or Discolored Teeth
Veneers provide you with the opportunity to make several changes to your smile in one treatment. If your teeth look discolored, veneers can make them appear brighter. This can be particularly effective for people who have internal problems with their tooth structure, and not stains, causing discoloration to occur. These restorations can also hide damages and congenital abnormalities. Overall, you can use veneers to make your smile appear healthier, more symmetrical, and brighter.
We Offer Traditional Veneers And Lumineers For Patients
Conventional porcelain veneers are remarkably thin, which makes them effective at restoring the appearance of teeth while requiring minimal changes to your enamel. Unlike dental crowns, which completely cover a tooth, veneers only occupy the front spaces. In addition to traditional veneers, we do provide Lumineers to patients. Lumineers are also made of porcelain, but they boast a thinner design. That design means you can require less modification of your enamel to make room for them. In some cases, it may be possible to place Lumineers without this preliminary work!
What Else Can I Do To Make Improvements To My Smile?
Veneers can be effective at hiding gaps and overlaps between teeth, but this is not always the recommended solution for fixing alignment flaws. We can provide clear braces to help you straighten teeth so that you no longer have to worry about spacing issues affecting the way you look. We also provide professional teeth whitening treatment for those individuals who are focused on restoring a smile affected by stains.
Dr. Koshki Can Provide Exciting Smile Improvements With Veneers
At our Santa Monica, CA dentist's office, Dr. Koshki is prepared to help you make exciting changes to your smile! With porcelain veneers or Lumineers, we can address multiple concerns at one time, and effectively deliver an exciting smile makeover. If you have questions about this procedure, or if you want to learn about your other cosmetic treatment options, we can help! You can make an appointment by calling Santa Monica Dental Arts in Santa Monica, CA at 310-395-1261.