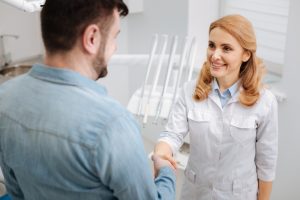 By providing you with care via laser treatment, your dentist can offer you a modern, more precise dental experience. Laser treatment is able to help with a range of different dental procedures. You can enjoy better periodontal treatment that is more precise, and can heal faster. You also enjoy an advanced dental cleaning that can better protect you from cavities and gum disease. If you want to enjoy the best possible oral health care, make sure you are taking advantage of the preventive dental care offered through regular appointments. After all, no matter how advanced your dentist's treatments become, they will not be able to help you if you never come in to receive care.
Using Laser Treatment To Address Periodontal Issues
Laser treatment can ensure that your periodontal tissue is cared for with superior precision. Your dentist can more accurately tend to areas of your gums that are infected, and limit the bleeding and inflammation you would experience through standard care. Lasers are used to provide periodontal cleanings, which protect you against gingivitis. If your condition is more advanced, your dentist can use lasers to reduce periodontal pockets that may have already formed.
Using Lasers To Keep Your Smile In Good Condition
Your dentist can offer a modern cleaning of your teeth by removing plaque and tartar with lasers. This expert cleaning can give you a better defense against tooth decay. Lasers can also be used to monitor the development of your wisdom teeth, to predict when you might need to have them removed. Because they minimize bleeding and healing times, your dentist can perform a biopsy by removing soft tissue with a laser.
Enjoying Laser Dental Treatment With Dr. Koshki
Laser treatment can improve your overall dental experience by giving you modern, more accurate care that involves shorter healing times. You can count on Dr. Koshki and Santa Monica Dental Arts to offer superior care when you come in for a checkup, or when you need more involved care. To learn more about the services we provide, or to request a consultation with Dr. Moeiz Koshki, call Santa Monica Dental Arts in Santa Monica, CA today at 310-395-1261. Request an appointment online by clicking here.