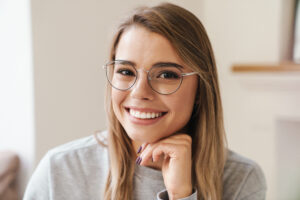 How will you look in holiday photos this year? Will you show off a bright, lovely smile, or will you hold back because of concerns about how you look? At our Santa Monica, CA dentist's office, we can take many different approaches to helping patients see changes to their appearance that they are excited to share with the world. One way we can do this is by providing treatment with porcelain veneers. With these carefully crafted and placed restorations, we can take on problems with discoloration, poor spacing, enamel wear and tear, and more to help you feel a true confidence boost.
What Hurts Your Confidence In Your Smile?
There are different reasons why people lack confidence in the way they look. When those reasons have to do with the condition, color, or alignment of their teeth, they can be more difficult to ignore. Simply put, a person's smile can be one of their most memorable features, but it can be hard to feel great about how yours looks if there are flaws that people can see. Rather than try to hide yours, you can discuss cosmetic dentistry and its benefits. When you do so, you can find that significant changes can be made in less time, and with less work, than you think possible.
Using Porcelain Veneers To Change How You Look
The placement of porcelain veneers makes noteworthy, long-lasting changes possible in the span of just two appointments. During that initial visit, we take care to plan your procedure by capturing measurements to use in the creation of your custom restorations. We can also provide conservative preparatory work as needed to make sure your treatment boasts a natural look, and to make sure your veneers are securely affixed. With Lumineers, a thinner alternative to these traditional restorations, we can minimize or even avoid this step. Once ready, your veneers can be permanently set on the front surfaces of teeth to make meaningful changes to how you look.
Other Cosmetic Services To Consider
There are different strategies that can be explored if you want to see how we can improve your smile. We can directly target an issue with discoloration by recommending a teeth whitening procedure. Our patients even receive personalized kits to use at home so that they can "touch up" their smile after their initial treatment! We also provide clear aligners to patients who want to address issues with poor spacing that makes their smile appear uneven or asymmetrical.
Talk To Your Santa Monica, CA Dentist About Treatment With Porcelain Veneers
Through the right approach to cosmetic treatment, we can give you a lasting confidence boost! If you would like to find out more about veneers or any other procedure we offer, call Santa Monica Dental Arts in Santa Monica, CA today at 310-395-1261.