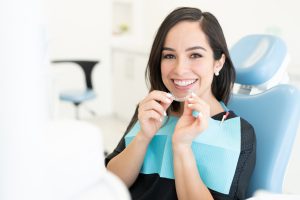 Our Santa Monica, CA dentist's office offers several procedures to patients who want to make positive changes to their smile. For those who are bothered by malocclusion – issues with the way teeth are positioned – we can use clear aligners like Invisalign or ClearCorrect to make positive changes. These appliances let us discreetly straighten teeth, as they are hard to notice when in place. To make sure your aligners fit properly, and to determine how we can efficiently change the way your teeth are spaced and aligned, we will perform a digital scan of your oral structures.
How Clear Aligners Lead To Cosmetic And Oral Health Improvements
By fixing malocclusion with clear aligners, we can do more than just make positive changes to the way you look. Clear aligners help fix issues with malocclusion that negatively impact your bite function. With straighter teeth, your bite will put less stress on your jaw because you can have less difficulty applying pressure evenly. Straightened teeth are also easier to clean, which can mean you are less likely to need restorative dental work over time.
Our iTero Digital Scanner Helps Us Personalized Treatments
Because we have an iTero digital scanner in our office, we can carefully measure patients' teeth and bite structures. The information gathered with this technology lets us plan procedures and confirm that clear braces are the right treatment approach for those who want to deal with smile gaps and overlaps.
Other Cosmetic Services Available To Our Patients
While clear braces help us deal directly with poor spacing and alignment, there may be another approach we can take to addressing malocclusion. With porcelain veneers, we can hide some gaps or overlaps between teeth. If this approach to treatment is effective for you, it can give you the smile improvements you want in a shorter time! Your dentist is also able to deal with embarrassing teeth stains through professional whitening treatment. By following treatment with clear aligners with whitening treatment, you can show off an incredible smile transformation!
Talk To Your Santa Monica, CA Dentist's Office About Treatment With Clear Aligners
Are you currently unhappy with your smile because of the way that your teeth are spaced? Through treatment with clear braces like Invisalign and ClearCorrect, Santa Monica Dental Arts can give you renewed confidence in your smile while also improving your oral health. We have helped many patients who felt self-conscious about the way they looked before undergoing cosmetic treatment. We are also prepared to help you prevent and address any oral health problems that may arise and affect you. To find out more about the cosmetic and general services that are available to you, please reach out to our dentist's office in Santa Monica, CA today at 310-395-1261.