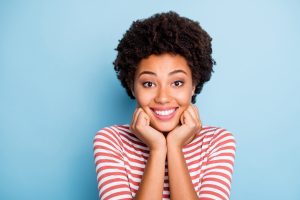 As the years pass, your teeth can begin showing signs of wear and tear that may have a noticeable effect on their appearance. While this can be common, it can be more severe if you have a history of teeth grinding, or if you often chew on hard surfaces like ice cubes. While some degree of wear and tear can be difficult to avoid, it can be addressed with cosmetic dental work. At our Santa Monica, CA dental office, you can see impressive smile improvements when you receive porcelain veneers. Veneers are effective at correcting problems with wear and tear, concerns about dental discoloration, and even issues with tooth size or alignment.
Is Dental Wear And Tear Making Your Smile Look Older?
Visible wear and tear, along with teeth stains and enamel erosion, can have the effect of making teeth look older. These changes can be difficult to avoid over time, as even people with dedicated preventive oral care routines can experience some effects to their appearance after so many years of friction from biting and chewing. However, this does not mean that you have to simply live with the changes to your smile. The right cosmetic dental work can effectively restore the look of your teeth, and help you enjoy a significant confidence boost.
Discussing Porcelain Veneers To Address Dental Wear And Tear
Porcelain veneers are custom-made shells that your dentist will affix to the front of your teeth. When they are in place, they can hide minor chips and cracks, and restore the shapes of teeth that have become worn over time. Your veneers can also help improve the color of your smile. In fact, they can be recommended as an ideal solution for discoloration when the problem can be traced to something other than teeth stains. For example, when enamel erosion occurs, it can cause more of your dentin to show, and make teeth appear dull or off-color. Receiving veneers can help you deal with this problem, and brighten your smile!
We Can Help You Show Off Your Best Smile
Our practice is committed to helping patients feel confident in the way they look when they smile. Through cosmetic dental work, we can correct many problems that interfere with your appearance. If you have teeth that are in poor condition, we can provide lifelike porcelain dental crowns. These restorations can help with your appearance while also improving your ability to bite and chew with comfort.
Talk To Dr. Koshki About Addressing Dental Wear And Tear
At Santa Monica Dental Arts, Dr. Koshki is ready to help patients who want to do something about unsightly dental wear and tear. If you would like to set an appointment with Dr. Moeiz Koshki, call Santa Monica Dental Arts in Santa Monica, CA today at 310-395-1261.