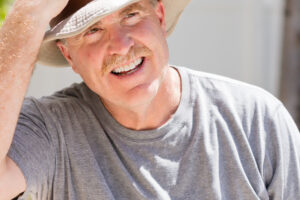 Are you tired of living with a smile you lack confidence in because of tooth loss? If you have even one missing tooth, you can experience cosmetic as well as oral health difficulties. Fortunately, there are solutions available to you that can take care of the esthetic and functional impact of this problem. At our Santa Monica, CA dentist's office, we are prepared to provide patients affected by tooth loss help through implant dentistry. A dental implant-held restoration is capable of keeping a lifelike replacement tooth secure over the years. Even as you count on it to provide support for your bite function, it can remain in position. This arrangement can even help preserve your oral health by stabilizing neighboring teeth and supporting your jaw health.
Has Tooth Loss Robbed You Of A Confident Smile?
A once-lovely smile can feel like something you have to keep hidden when you lose a tooth. That one gap left by its absence can draw considerable unwanted attention. Missing teeth create more than just cosmetic problems. They also create difficulties with your bite function, and they can complicate your ability to maintain your oral health in several ways. What may surprise you is how tooth loss can turn into a problem with jawbone deterioration; without teeth roots to stimulate the bone, you can gradually lose density over time due to resorption.
Discussing Implant Dentistry And Its Impact
Implant dentistry can have a beneficial effect on both your appearance and your oral health. This arrangement relies on the placement of a dental implant directly in your jawbone. This is a surgical procedure, one that can be made more comfortable with the use of dental sedation and anesthetic. After this post is placed, and you are given time to heal, you will return to our practice to have your restoration put in position. That placement can give you renewed confidence in the way you look along with more support for your bite function.
We Can Help You Take On A Range Of Smile Concerns
For people who want to transform the way they look, treatment for tooth loss can be just a portion of larger efforts at care that can benefit them. In addition to replacing lost teeth, we can restore those that are in poor condition with dental veneers and dental crowns. This work can have a transformative effect, one that once again allows you to smile and speak with confidence!
Talk To Your Santa Monica, CA Dentist's Office About Implant Dentistry!
Through implant dentistry, we can take on the different issues that can impact you when you experience tooth loss. If you are ready to learn more about this or any other service, call Santa Monica Dental Arts in Santa Monica, CA today at 310-395-1261.