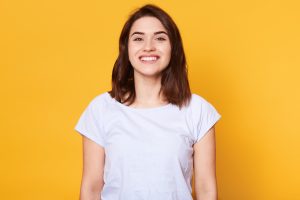 With good habits on a daily basis, and access to regular dental checkups, you can keep your teeth healthy. As a result, you can have an easier time keeping your smile white, and lowering your risk for dental damage. Unfortunately, this persistent effort to protect your teeth is not going to help you correct a problem with poor dental alignment. However, you are not stuck showing off a smile that appears crooked, or poorly spaced. At our Santa Monica, CA dental office, we can use clear aligners to give you a straighter smile. Because we use Invisalign and ClearCorrect instead of metal braces, your journey to a better appearance will not obligate you to wear unflattering metal braces!
Dental Misalignment Can Be A Big Problem For Your Smile
Even isolated alignment flaws can cause enough trouble for your smile to throw off your appearance, and make you self-conscious. This problem is often naturally occurring, though it is possible for impacted wisdom teeth to cause crowding that changes their alignment. Alignment flaws can sometimes re-occur if teeth slowly drift back to their earlier positions after past orthodontic work.
Starting A Correction With Clear Aligners
By using clear aligners instead of metal braces to move your teeth, you can keep your orthodontic adjustment discreet. People who are worried about the impact braces might have on the way they look can be grateful for the opportunity to straighten their smile without making it obvious they are having work done. You can discover another benefit to using clear aligners during your treatment – instead of having your orthodontic appliance permanently set, you can enjoy the ability to remove clear aligners on your own when you eat, or are about to clean your teeth.
Some Problems With Crooked Teeth Can Be Covered With Veneers
While clear aligners make an adjustment discreet, and avoid problems with your daily life, you can still wish for a faster answer to your problems. Depending on the nature of your alignment flaws, you may have issues that are correctable with porcelain veneers. At our practice, we can determine if this is an option, and talk to you about using veneers to cover up any gaps or overlaps that make your alignment flaws apparent when you smile.
Talk To Dr. Koshki About Correcting Issues With Teeth That Appear Crooked
Teeth that appear crooked can make you self-conscious, but you can do something about this problem. At Santa Monica Dental Arts, Dr. Koshki is ready to help patients do something about gaps and overlaps between their teeth. You can make an appointment with us to learn more about clear aligners, or explore other options for cosmetic improvements. To make your appointment with Dr. Moeiz Koshki, call Santa Monica Dental Arts in Santa Monica, CAtoday at 310-395-1261.