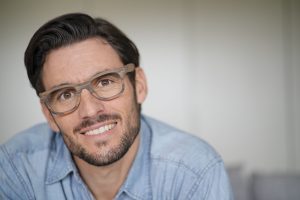 How much impact can a single flawed tooth have on a person's appearance? The symmetry of your smile can have a strong influence on how it is perceived. If you have a tooth that stands out, it can throw off that sense of symmetry and hurt the overall quality of your appearance. If its awkward shape affects your ability to bite and chew properly, or if it is the result of an injury, it can also be an issue for your oral health. Our Santa Monica, CA dentist's office is prepared to help individuals who are bothered by a misshapen tooth. To restore your tooth's health as well as its appearance, we can recommend the placement of a custom porcelain dental crown.
A Misshapen Tooth Can Affect More Than Just Your Appearance
While cosmetic flaws are often frustrating enough to send people to their dentist, remember that a dental flaw can also interfere with your oral health and bite function. If you have a difficult time applying bite pressure in a way that feels natural, it can lead to difficulties with jaw stiffness and sensitivity. It can also cause you to unknowingly overuse other teeth, which can wear them down more quickly.
Restoring Your Tooth With A Custom Porcelain Crown
A custom porcelain dental crown will completely cover a tooth above a person's gum line. The shape and size of the crown are carefully determined, as its dimensions will affect how it looks as well as how comfortable you are with its presence. The porcelain material used to craft your restoration can be matched to the color of your neighboring teeth to ensure that it looks like a natural fit. In addition to helping you bite and chew comfortably, its can give your smile a more symmetrical look by addressing any issues with a tooth's flawed shape or size.
Can I Use Veneers To Improve The Look Of Misshapen Teeth
Porcelain veneers are not able to provide the bite support that dental crowns offer, but they do provide a more conservative solution for purely cosmetic concerns. Veneers take up a smaller amount of space, as they only cover the front of a tooth. To further reduce the amount of work needed to make space for your restoration, we can recommend even slimmer Lumineers for treatment.
Talk To Your Santa Monica, CA Dentist About Restoring A Misshapen Tooth
At our Santa Monica, CA dentist's office, patients who are concerned about problems with misshapen or injured teeth can have work done to improve their smile as well as their dental health. If you would like to find out more about our services, please call Santa Monica Dental Arts in Santa Monica, CA today at 310-395-1261.