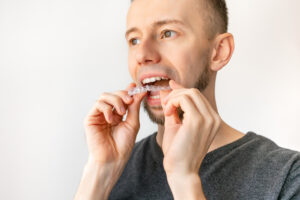 For adults who feel self-conscious about poor teeth spacing, there are alternatives to traditional orthodontic appliances. Many who want to do something about gaps and overlaps between teeth can look beyond metal braces for a treatment solution. At our Santa Monica, CA dentist's office, we can recommend that you use Invisalign aligners to take care of problems. Invisalign makes orthodontic work discreet. In addition to this, these appliances help by making the treatment easier to fit into daily life; because they are removable, they are not in your way when you need to eat or clean your teeth.
Are You Ready To Take Care Of Embarrassing Smile Alignment Issues?
Poor smile alignment can make many people embarrassed. It only takes a slight imbalance to create a gap or overlap that will attract unwanted attention. There is also the concern that your smile will generally have an uneven look to it. What we can offer is corrective work with a set of appliances that will gradually and discreetly move teeth so that they are appropriately positioned.
What Invisalign Can Do To Make Corrective Work Easier To Fit Into Your Life
Corrective work with Invisalign aligners can prove surprisingly easy to fit into your daily routine. Because they are made with a clear material that is hard for others to see, they can effectively go undetected as you go about your daily routine. They are removable as well, so they are not going to create interference when you eat or clean your teeth. With our iTero digital scanner, we can ensure that your appliances are custom-made to provide the right movements and create the right overall changes to improve how you look!
Discussing Other Cosmetic Services And Their Benefits
There are several cosmetic dental services that are available to patients who want to change the way they look. With porcelain veneers as well as slimmer Lumineers, we are able to take on problems with spacing as well as discoloration, damage, and more. These restorations are set on the fronts of teeth that look unattractive in order to provide lasting improvements. Another option is to focus on the effect of discoloration, a common concern, by offering professional teeth whitening treatment.
Talk To Your Santa Monica, CA Dentist About Invisalign Treatment!
The problems people have with poor teeth spacing can make them reluctant to share their smiles with the world. What can you do if you have issues with malocclusion but are not comfortable with the idea of metal braces? Many adults can see success with Invisalign treatment. With the use of these appliances, we can take on problems with the way you look while minimizing changes in your daily routine. For more information, call Santa Monica Dental Arts in Santa Monica, CA today at 310-395-1261.