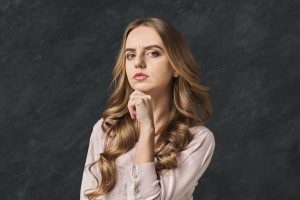 Dental crowns are effective at protecting teeth that are injured, or badly damaged by cavities. While you can count on them to restore your oral health, can you also count on them to improve your smile? Because your Santa Monica, CA dentist can offer you a dental crown made with porcelain, you can be happy to see that your restoration blends in nicely with your smile. The material can be tinted to match the color of neighboring teeth, and it can be custom-made to offer an exact fit. This is one of many services your dentist can provide if you have an issue that affects the way you look when you smile.
Why Use A Dental Crown Instead Of Cosmetic Dental Work?
If your goal is to improve your smile, why would your dentist recommend a dental crown over a cosmetic dental procedure? In some cases, the problems that affect the way a tooth looks will also impact its health, and its effectiveness for biting and chewing. Porcelain veneers and Lumineers offer great benefits when your only concern is how a tooth looks. When you also have to worry about its health, or its ability to withstand bite pressures, a dental crown can be more appropriate.
Receiving Your Custom Crown
A custom dental crown will be made for you, and based on your particular needs. Before your restoration can be created, your dentist will take careful measurements of your tooth, and an impression – the gathered information is used for the crown's design. Of course, the size of your crown is not the only concern. Your dentist can also make sure its color matches your neighboring teeth, so it does not look false when surrounded by them.
Your Dentist Is Ready To Provide You With Meaningful Smile Improvements
Multiple services can help you show off the kind of smile improvements that people can't help but notice. If your oral health is affected by a problem that also affects your smile, a dental crown can serve as an ideal solution. If you are only concerned about changing the way you look, you can rely on cosmetic dental work, rather than a restorative dental procedure.
Talk To Dr. Koshki About Restoring A Problem Tooth With A Dental Crown
Patients at Santa Monica Dental Arts can look forward to expert dental care, and access to modern tools and materials. When you need a dental crown, Dr. Koshki can provide you with an attractive and durable porcelain crown that delivers lasting support. Our practice can also offer a range of other services to help you with your oral health, and the way you look. If you wish to schedule a consultation with Dr. Moeiz Koshki, call Santa Monica Dental Arts in Santa Monica, CA today at 310-395-1261.