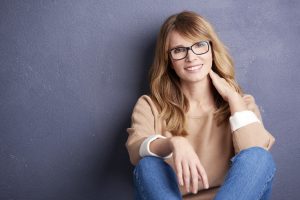 When a person keeps their teeth in good health, they can generally show off a smile that appears uniform, and free of glaring troubles. However, this is not always the case. For some individuals, problems with a misshapen tooth, or misshapen teeth, can have a distracting effect on how they look, and hurt their confidence. Others can experience problems with tooth shape because of a conspicuous chip, or any other kind of damage that might alter the way their smile looks. Our Santa Monica, CA dentist's office is ready to meet with people who want to make cosmetic dental improvements if they are affected by misshapen teeth. When veneers are put in place, it is possible to permanently correct this problem, and make a significant improvement to the way someone looks!
Using Veneers To Improve The Shape Of Flawed Teeth
Veneers are helpful in many situations where a person might be unhappy with the look of their smile. For problems with tooth shape, a custom veneer can make precise adjustments to that tooth's appearance, so there is no longer a concern that it might stand out. Veneers are also useful for covering up minor smile alignment flaws, closing gaps, and even hiding discoloration!
The Right Procedure Can Have A Remarkable Effect On Your Appearance
With a single procedure, your dentist can make a dramatic change to the way you look. You can see significant changes when you have traditional veneers placed, or when you have Lumineers placed on teeth. Lumineers are slimmer than regular veneers, but they are made from the same porcelain material. They can help improve on a tooth's shape, size, and general appearance, and provide lasting improvements.
For some patients, veneers will not be necessary to make the improvements they want. If your only interest is in changing the color of your teeth, you can enjoy great improvements with a professional whitening treatment.
Can Veneers Address Problems With Teeth That Are Damaged?
Veneers are often effective when people have minor dental injuries that they want to hide. With that said, cosmetic work may not be effective in all cases involving dental damage. If you need more support because of a more serious injury, a lifelike porcelain crown may be a more appropriate solution to your particular problem. Because a crown covers all of your tooth above the gum line, it can improve your dental function, while veneers only offer cosmetic improvements.
Want To Deal With A Misshapen Tooth? Talk To Dr. Koshki!
Dr. Koshki at Santa Monica Dental Arts is ready to help you show off your most beautiful smile! If you are bothered because of an issue with the shape, size, or color of any of your teeth, let our practice know! The right procedure can have a profound impact on the way you look. To find out more, call Santa Monica Dental Arts in Santa Monica, CA today at 310-395-1261.