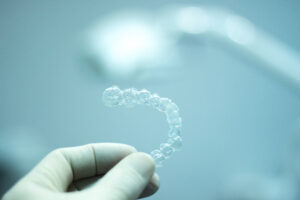 What options do you have if you want to make changes to your smile? For people with crooked teeth, the available services can be a welcome surprise. While some individuals may assume that their only option is to have orthodontic work with metal braces, issues with malocclusion are often treatable with clear aligners. These appliances make the process of straightening an uneven smile discreet, which means it will be easier to fit into your daily life. We should note that in addition to helping you improve your appearance, work provided by your Santa Monica, CA dentist to straighten your teeth can make positive, lasting changes to your oral health as well!
Problems With Poorly Aligned Teeth Can Lead To Smile Concerns
If you have problems with the way that your teeth are spaced and aligned, it can leave you with doubts about the quality of your smile. After all, this is a problem that causes people to have embarrassing gaps and awkward overlaps between their teeth. These flaws can attract unwanted attention even when they are relatively minor. Your issues can also leave you with an uneven and asymmetrical smile that appears "off" and therefore less attractive. The good news is that this kind of problem can often be treated with conservative clear aligners. Through Invisalign treatment, we can correct flaws and make your smile more uniform!
Using Clear Aligners To Improve Your Appearance And Oral Health
After an evaluation with our digital imaging technology, we can plan corrective work with Invisalign to improve your smile and oral health. Your smile care will depend on a series of appliances that gradually move teeth into better alignment. As you move from one appliance to the next, you can see benefits as your smile looks straighter and more attractive. This work can also have benefits for your oral hygiene and bite function, two other issues affected by malocclusion.
Discussing Other Cosmetic Services With Your Dentist
We are ready to meet with patients interested in how the right cosmetic procedure can help them. If you want to hide spacing flaws, you may be a good candidate for treatment with porcelain veneers or Lumineers. By using this approach, we can shrink the time that it takes for you to see the results that you want. These restorations can be ready in as little as two appointments, and they can have additional value for your smile by improving the color, shape, and condition of teeth.
Talk To Your Santa Monica, CA Dentist About Invisalign Clear Aligners!
Through the use of Invisalign clear aligners, we can help you take on problems with your appearance and oral health, and we can do so while minimizing changes to your appearance and daily life! If you want to know more, call Santa Monica Dental Arts in Santa Monica, CA today at 310-395-1261.