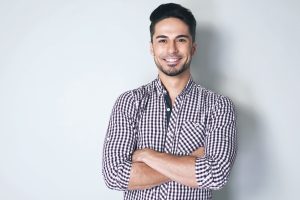 You should feel confident when you smile, but if you have problems with untreated dental discoloration, you may feel uneasy about letting people look too closely at your teeth. If you have already tried to address the matter by switching to a whitening toothpaste, or by picking up a whitening kit at your local grocery store or pharmacy, you may have seen some improvements, but not what you hoped to enjoy. At our Santa Monica, CA dental office, we can provide you with a professional whitening treatment that leads to big changes. We can also discuss the use of porcelain veneers to improve your appearance if your discoloration is caused by something other than teeth stains.
Teeth Stains Can Be Hard To Avoid
One unfortunate truth about teeth stains is that they can be hard to avoid, particularly if you enjoy products like coffee, tea, red wine, or an array of color-rich or dark foods. Because so many popular items are able to leave behind chromogens and tannins in our enamel, some degree of discoloration can affect the way you look over the years. With that said, you should not feel helpless against stains! If you want to make improvements, professional whitening services can be surprisingly convenient, and effective.
Professional Whitening Agents Can Be More Effective Than Store-Bought Products
Instead of expecting significant improvements from a store bought whitening kit, you can see big changes from professional cosmetic dental work. A professional whitening treatment at our practice can have your teeth looking up to ten shades brighter in as little as one hour! We can even help you keep up with these improvements by providing a customized take-home whitening kit with advanced bleaching gels. With this kit, you can continue to fight stains as they appear, and prolong your smile improvements.
Looking At All Of Your Options For Cosmetic Improvement
Not everyone with a discolored smile is in need of help with teeth stains. There are cases where a person's smile is dulled by internal tooth issues. The problems that lead to internal discoloration, or intrinsic discoloration, are not easily dealt with through professional whitening agents. What you can find is that porcelain veneers are able to hide blemishes in order to make you more confident in the way you look. Veneers also make it possible to correct issues with dental damage, misshapen teeth, and other cosmetic dental problems. If a tooth has a particularly severe issue with discoloration, a dental crown can be used to make improvements.
Talk To Dr. Koshki About Addressing Your Issues With Dental Discoloration
If you are tired of letting dental discoloration affect the way you look, cosmetic dentistry can help! At Santa Monica Dental Arts, Dr. Koshki can work with you to determine what has affected your smile before recommending an appropriate treatment. To learn more, call Santa Monica Dental Arts in Santa Monica, CAtoday at 310-395-1261.