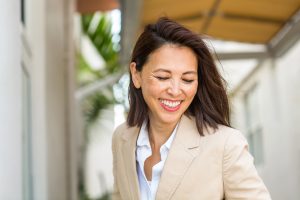 If cosmetic dental work is going to produce significant results, a procedure must involve a significant amount of work on your tooth structure…right? At our Santa Monica, CA dentist's office, individuals who are concerned about the work behind cosmetic treatment can be happily surprised at how conservative an effective treatment can actually be. One way we can restore your smile is through the placement of Lumineers. Like traditional veneers, Lumineers are created from a durable porcelain material, and they can help you cover up problems with the shape, size, and color of your teeth. What sets these restorations apart is their slimmer design, which can limit the amount of preparatory work required for your smile improvements.
Lumineers Are A Slimmer Type Of Veneer
Why would the size of your restorations matter? Before veneers are placed, some preparatory work is performed on the fronts of teeth in order to make space for them. Thanks to their slimmer design, Lumineers require less of this work. For some patients, this process can be minimized or even skipped!
When Are Lumineers Effective?
Lumineers and veneers are effective at addressing many different superficial issues that might hurt the quality of your smile, including:
Problems with gradual wear and tear on teeth
Issues with the natural shape or size of teeth
Discolored teeth, including teeth that are affected by something other than stains
Some problems with alignment
Veneers and Lumineers have delivered effective smile improvements in many situations, and they have been beneficial to many different patients. Through their placement, you can effectively enjoy a dramatic smile makeover!
Our Goal Is To Make Sure You Enjoy Lasting Smile Improvements
Our goal when performing any cosmetic dental work is to help you feel lasting confidence in your smile. Veneers are often recommended to help patients reach their goals, but this is not the only solution we can offer for you. If your focus is on restoring the color of your smile, we do offer professional whitening treatments that can take on stubborn teeth stains. We also provide clear braces for patients who are unhappy with gaps or overlaps between teeth. If there is an issue with your oral health that also affects your smile, you can be happy to know that we can provide lifelike dental crowns to restore the health and appearance of teeth.
Talk To Your Santa Monica, CA Dentist About Lumineers
At our Santa Monica, CA dentist's office, individuals who are worried about their smile, but also want to limit the amount of work involved in a cosmetic procedure, can be excited to hear about Lumineers! Lumineers provide a slimmer alternative to the already-slim porcelain veneers that have helped so many individuals. If you would like to learn more about how a cosmetic procedure can improve the way you look and boost your confidence, call Santa Monica Dental Arts today at 310-395-1261.