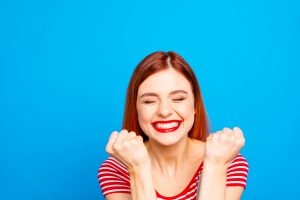 Modern cosmetic dental procedures can make remarkable changes to the way you look. In some cases, those improvements can require less work than you may expect, particularly when it comes to changing your tooth structure. Your Santa Monica, CA dentist can talk to you about hiding smile flaws through the placement of Lumineers. Lumineers are a slimmer alternative to traditional veneers. They can require less alteration of your tooth structure, or even no alteration, to be placed. Once in position they can hide problems like discoloration, dental damage, and more, leading to a great smile transformation.
Using Lumineers To Cover Up Dental Flaws
Lumineers, like traditional veneers, are used to cover up many different superficial flaws that might be interfering with how you look. When in place, your Lumineers can hide issues with teeth that look worn, or even cover up minor chips and cracks that have occurred over time. Your dentist can also use this cosmetic procedure to help address some issues with discoloration.
Am I Better Off Having Lumineers Placed, Or Traditional Veneers?
Lumineers can be an attractive option for patients when they find out how they can require less alteration of their natural tooth structure. Their remarkably slim design can actually make Lumineers effective even without any modification of your tooth to accommodate them. While many people can benefit from this treatment, your dentist can review your smile to see if you might be better off with traditional veneers. Like Lumineers, these cosmetic restorations are made from porcelain, and can match the look of healthy enamel. While not as thin, veneers are still impressively slim in their design.
Some Tooth Problems Can Actually Require The Placement Of A Dental Crown
The goal during any dental treatment is to make sure your teeth are in good shape, and look their best. For some problems, proper tooth care can demand more than just cosmetic work. After examining your teeth, your dentist may recognize an issue with a tooth being too weak, or too damaged for veneers – a dental crown can be recommended instead. Your crown will be made to cover your tooth above your gum line. In addition to protecting your smile, the crown can also defend the tooth by absorbing biting and chewing pressures.
Talk To Dr. Koshki About Having Lumineers Placed To Improve Your Smile
If you are ready to see remarkable changes to your smile, you can speak with Dr. Koshki about Lumineers! Santa Monica Dental Arts is proud to offer this treatment, and many others, to residents in and around the area. We can also talk to you about your oral health needs, and make sure your smile is also in terrific health. To plan your consultation with Dr. Moeiz Koshki, call Santa Monica Dental Arts in Santa Monica, CA today at 310-395-1261.