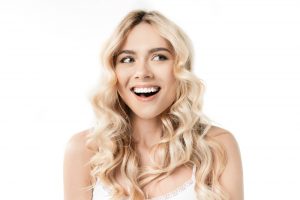 The benefits of a whitening treatment you purchase at the grocery store or pharmacy can be frustratingly modest. After years of accumulated stains, you may be ready to improve your teeth by several shades, only to find that a store bought whitener has failed to deliver these results. When you come to your dentist for cosmetic care, you can have discoloration addressed with a ZOOM! whitening treatment. With the use of ZOOM!, your dentist will be able to make your teeth remarkably whiter in a single session, which should last approximately an hour.
Making Certain You Are Happy With The Results Of Your Whitening Treatment
After having your teeth whitened with ZOOM!, your teeth can be whiter by as many as ten shades! Of course, once you have these changes, you will want to preserve them. A take-home kit supplied by your dentist will allow you to safely perform touch ups, and make sure the improvements you saw after your treatment endure.
What If My Stains Don't Respond To Whitening Agents?
The ZOOM! whitening system can make short work of stains in your enamel. However, patients who have internal stains can need something other than this procedure to see real value from cosmetic work. If your dentist determines that you need an alternative approach, they may recommend porcelain veneers or Lumineers. This will involve the crafting and placing of special shells over teeth, which hide flaws. This means that in addition to making your teeth look whiter, the placement of veneers or Lumineers can also hide worrying issues like chips, cracks, and developmental abnormalities.
Enjoy A ZOOM! Whitening Treatment At Santa Monica Dental Arts
Are you tired of looking at a smile that has grown dull thanks to a buildup of stains? Talk to Dr. Koshki at Santa Monica Dental Arts about a professional whitening procedure. By undergoing this treatment, you can see big changes that may have once felt beyond your reach when you were relying on store bought products. To learn more about the cosmetic care we offer, or to schedule a consultation with Dr. Moeiz Koshki, call Santa Monica Dental Arts in Santa Monica, CA today at 310-395-1261.