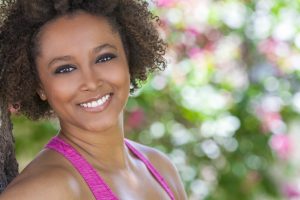 Frustration over the color of your smile can affect your confidence, and make you hesitant to show off your smile. This can be an especially aggravating issue when you first notice how accumulated stains in your teeth have started to change the way you look. Fortunately, your Santa Monica, CA dentist can provide you with a professional whitening treatment that makes significant changes to your smile's brightness. With a professional treatment, you can see results after just one appointment, and you can take home a kit to help you by allowing you to perform touch-ups when your teeth seem to be dulling again. 
How One Appointment Can Lead To Remarkably Brighter Teeth
In the span of a single appointment, your dentist can make your smile brighter by many shades. A Zoom! whitening treatment uses prescription strength bleaching gels, and stimulates those gels with a special light to make sure you see remarkable results in a relatively short period. You can have results you are thrilled with within just one hour!
Taking Care To Preserve Your Brighter Smile
Taking smart steps to restrict your intake of color-rich products can help you limit the buildup of new stains. If you do see changes starting to affect the color of your smile, you can use a special whitening kit provided by your dentist to address the problem. Touching up your teeth will help you keep up with your appearance, and show off a stunning smile!
What If My Smile Color Is Affected By Something Other Than Teeth Stains?
If you need to do something about discoloration caused by something other than enamel stains, your dentist can talk to you about alternative treatment options. Porcelain veneers have helped patients who have discoloration due to internal problems – these problems can stem from dental injuries, fluorosis, or even side effects from certain medications.
Talk To Dr. Koshki About Enjoying A Teeth Whitening Treatment
At Santa Monica Dental Arts, you can enjoy great cosmetic dental care. Our practice is proud to offer solutions to many frustrating smile concerns, including teeth stains. To learn more about the services we offer, or to schedule a consultation with Dr. Moeiz Koshki, call Santa Monica Dental Arts in Santa Monica, CA today at 310-395-1261.